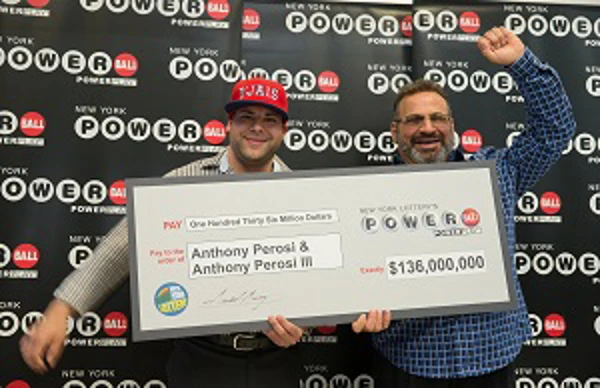 New York – The New York Lottery's Yolanda Vega presented a larger than usual ceremonial prize check to Anthony Perosi, 56, of Staten Island. Perosi, a plumber, was the sole winner of a $136 million Powerball jackpot drawn on March 14.
Perosi's life changing story began March 14 with a routine stop at the 7-Eleven on Page Avenue in Staten Island. "I was running some errands that day and stopped to buy my Powerball ticket," he explained. "I picked my numbers a couple of months ago and have played them a few times before. They don't represent birthdays or anything. I just picked them randomly."
"A few days after the drawing I was talking with a friend of mine and she told me the winning ticket was purchased at the 7-Eleven on Page Avenue," he continued. "I said that's where I bought my ticket and she told me she heard that a school teacher won it."
With that, Perosi didn't bother to check his ticket and left it pinned to the wall behind a pipe in his basement. "That's where I keep all of my tickets. I even printed out the winning numbers from the drawing, but never checked them against my ticket."
Six weeks later, on April 27, Perosi finally got around to checking his ticket. "I was having some car trouble and had some free time that morning. When I saw all the numbers matched up I panicked. I immediately called my son and asked him to come over right away!"
Anthony Perosi III came right over and double-checked the ticket. "I couldn't believe what I was seeing," explained the 27-year-old. "I checked the numbers on my phone and it has been surreal ever since."
Perosi claimed his ticket with a cash value of $88,533,767 the following day at the Lottery's Customer Service Center in Manhattan; opting to split his prize with his son. Perosi will receive a lump sum payment of $61,973,637 before required withholdings. His net check will total $38,612,055. Perosi III will receive a one-time payment of $26,560,131, netting him $16,548,023 after withholdings.
"I don't really know how to feel right now," said Perosi III. "I don't have words for it. It's just unbelievable and a big relief; like a big weight is off my shoulders. I'll probably pay some bills, take a vacation, and then really take some time to think and plan for the future."
The elder Perosi was still a little overwhelmed when asked of his plans. "I honestly don't know what my plans are right now. I want to continue to work, but will be able to relax a little more and not have any worries financially."
As for his friend who told him a school teacher had won the jackpot, Perosi said, "On my way to the claim center I called her and said 'you just made me wait six weeks to become a millionaire.' We both had a big laugh about it."