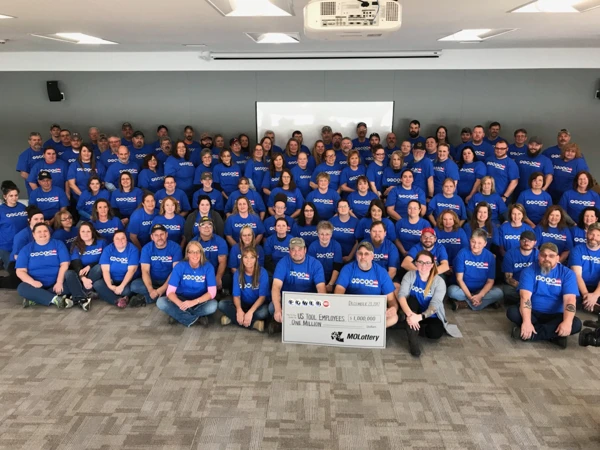 Missouri – When the Powerball or Mega Millions jackpots grow, some people enjoy playing as a group. And as the Powerball jackpot continued to climb in December to $300 million, one group's members totaled 166 people who pooled their money for the Dec. 23 drawing.
On Christmas morning, Peggy Lunsford realized her work group had a $1 million winning Powerball ticket.
"I'm in charge of collecting the money and who puts in $2 for each drawing," said Lunsford. "I make copies of all the tickets and check them after the drawings. When I saw the $1 million win, I decided to wait and let everyone know Tuesday, at work."
Lunsford and the others work at US Tool Group's headquarters in Farmington.
"You could hear people from all over the plant say, 'Yay!'" laughed Michelle Kemp, one of the 166 winners.
Four winners represented the group at Lottery headquarters in Jefferson City to claim their $1 million prize. They all wore sweatshirts from Jake's Express Shop, 6104 Highway Y in French Village, where the winning ticket was purchased.
"The girl that sells the tickets was so happy. She came running up to me and said, 'I knew I would sell you a winning ticket!'" said Lunsford. "It's exciting for everyone."
Each winner will receive approximately $6,024 before taxes.