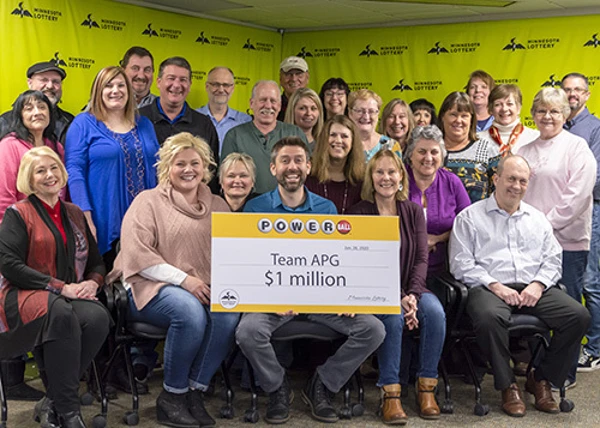 Minnesota – A group of 28, who work together in Coon Rapids and call their lottery pool "Team APG," claimed a $1 million Powerball prize this afternoon. "If we had one more number, our group name would be 'Retired,'" quipped one member.
"I had $1 million sitting on my desk since Saturday!" said Dustin Uran of Minneapolis, who purchases the tickets.
Uran learned that the ticket was a big winner when he scanned it at a lottery retailer on Monday morning. "I scanned it and it said, 'Winner. Contact lottery office.' So, I scanned it again and I thought, 'That's different.' I knew it must be $50,000 or $1 million—or a glitch."
After returning to the office, Uran looked up the Jan. 25 winning numbers on the Minnesota Lottery website and saw that one of their tickets had matched the first five numbers drawn to win $1 million. Uran emailed the pool members: "Apparently nobody checks the tickets I send. Check the tickets." "I always email copies of the tickets before the drawing for transparency," he explained.
With the estimated Powerball jackpot at $394 million for Wednesday's drawing and the group's newly earned reputation for being lucky, it's no surprise that additional coworkers want to join the Team APG lottery pool.
Speedway, located at 11872 Round Lake Blvd. N.W. in Coon Rapids, sold the $1 million winning ticket. Speedway earns a $5,000 bonus for selling the $1 million winning ticket.
The Jan. 25 winning Powerball numbers were 2-9-17-36-67 and the Powerball number was 18.
*Playing Our Part: Since 1990, the Lottery has generated more than $3 billion for programs that positively impact the lives of Minnesotans. More than $1.2 billion has helped preserve, restore and protect Minnesota's environment through the Environment and Natural Resources Trust Fund, Game and Fish Fund and the Natural Resources Fund. Another $1.8 billion has helped fund state programs, including education, public safety and health and human services. *