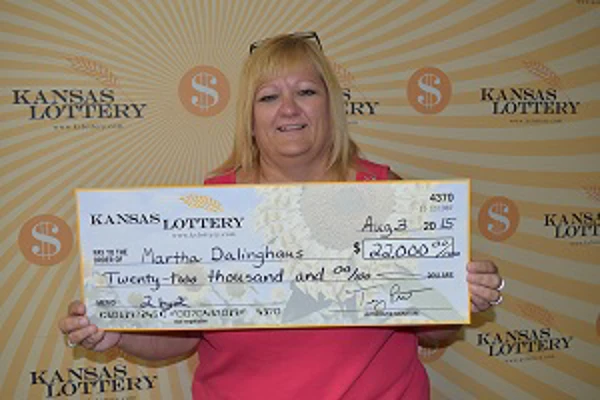 Kansas – Martha Dalinghaus, 52, has never been so happy about winning a free ticket. It was a free 2by2 ticket that won her $22,000 in the August 3 drawing!
"I play all the lottery games and have been since the beginning of the Lottery," said the Baileyville winner. "When I went to the store Monday, I had matched one number in a previous 2by2 drawing, and the prize for that was a free 2by2 ticket."
That free ticket turned out to be very timely for Dalinghaus when she matched both Red numbers 14 and 17 and both White numbers 4 and 19 in that night's 2by2 drawing.
"I'm pretty low key," she said. "So when I checked the ticket myself and realized I must have won $22,000 because the machine said the prize had to be claimed at the Lottery, I didn't say anything to anyone in the store. I thought I'd better tell my husband first."
Dalinghaus and her husband Joe are lifelong Kansans who farm near Baileyville. Martha is also the owner of CMT Designs in Seneca, a small t-shirt screen printing business. The Dalinghauses were high school sweethearts and just celebrated their 34th wedding anniversary. They have three grown sons and eight grandchildren.
The big winner says she and her husband will use the prize money to pay bills and also to help out a very close friend who was just diagnosed with Stage 4 cancer. "We're organizing a fundraiser for her, and this will really help," said Dalinghaus.
The Dalinghaus Family has seen some challenges of their own. Joe was very badly hurt in an industrial accident several years ago and suffered nearly fatal encephalitis in 2012.
"We're very thankful for everything we have," said Dalinghaus. "It's an awesome feeling to win this kind of money and it will really come in handy."
Dalinghaus got her lucky 2by2 ticket at Seneca Travel Shop, located at 503 North Street in Seneca.