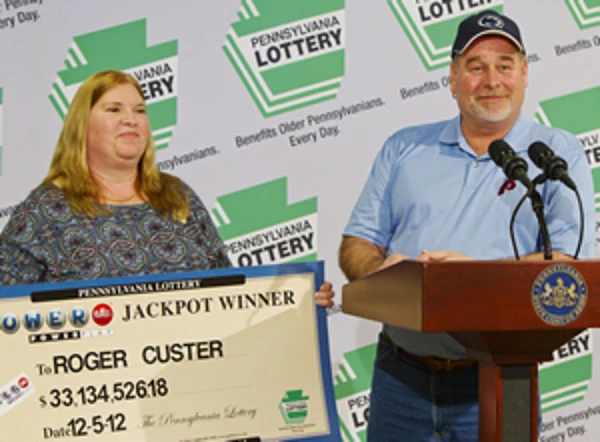 Pennsylvania – Roger Custer, of Levittown, Bucks County today claimed a $33.1 million Powerball™ jackpot from the Dec. 5, 2012 drawing.
Lottery Deputy Executive Director for Marketing and Product Development Drew Svitko today presented a ceremonial check for $33,134,526.18 to Custer, holder of the single jackpot-winning ticket from that drawing. Custer was accompanied by his wife, Linda, and several family members.
The ticket correctly matched all five white balls, 13-17-19-27-38, and the red Powerball, 12, to win a $50 million annuity, or $33.1 million cash prize, less 25 percent federal withholding. Custer elected to take the cash prize.
"The best part about winning the Powerball jackpot is being able to take care of my family," said Custer, who is retired. "It's a good feeling to know that my family will never have to worry."
Custer purchased the ticket at Levittown News & Tobacco, 411 S. Oxford Valley Road, Fairless Hills, Bucks County. The retailer earns a $100,000 bonus for selling the winning ticket.
Custer presented the ticket for validation today at Lottery headquarters in Middletown, Dauphin County. Lottery officials confirmed it was the jackpot-winning ticket after examining the ticket and executing proprietary security measures.
"I'm delighted to introduce Roger Custer as the Pennsylvania Lottery's 16th Powerball jackpot winner, but older Pennsylvanians are also big winners," said Svitko. "Powerball and Power Play sales in 2012 have generated more than $105 million dollars for important programs that benefit older Pennsylvanians."
Lottery-funded services for older adults include property tax and rent rebates, low-cost prescriptions, free and reduced-fare rides, long-term living services and in-home health and wellness services as well as a myriad of social, educational and recreational programs offered through the 52 Area Agencies on Aging and hundreds of senior centers across the state.
"After stopping for supplies for a hunting trip, I purchased two Powerball tickets, a Treasure Hunt ticket and some instant tickets," Custer said. "I won $5 on the instant ticket and gave it to my wife. I kept the Powerball tickets in my wallet during the 5 days I was hunting.
"After I got back, a friend mentioned that the jackpot-winning ticket was sold nearby and I jokingly said, 'I'm the winner.' I went home, handed the ticket to my wife and said, 'Check this and tell me how many millions we've won.'"
Custer said his wife checked the ticket, began to cry with joy and said, "You'd better not be kidding me, Roger."
Custer said he told only immediate family at first and only began sharing the good news with others today.
"I'll be doing a lot more hunting and fishing, for sure," Custer added.