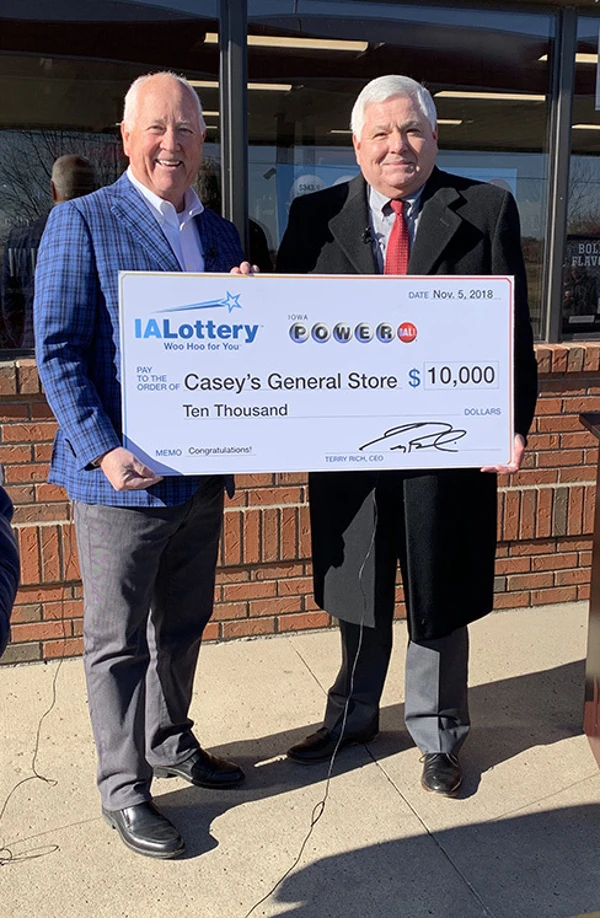 REDFIELD, Iowa — Casey's General Stores, Inc. held a check presentation at their Redfield, Iowa, location at 10 a.m. on Tuesday, Nov. 13, to donate their $10,000 bonus from the Iowa Lottery back to the community. Casey's received the bonus for selling a jackpot-winning ticket in the Powerball® game at their Redfield store.
Casey's will give $5,000 to West Central Valley High School, $2,500 to the Redfield Fire Department and $2,500 to the Redfield First Responders.
"Having the opportunity to invest this money back into the Redfield community is an honor for us. We've always been proud of our rural Casey's communities and are happy to share this gift with them," said Mike Richardson, Vice President of Marketing at Casey's.
To celebrate the excitement of a jackpot win and the other good fortune in the community, Casey's and the Iowa Lottery also plan in November to mail bonus prizes of two free coupons to all addresses with a Redfield zip code. One coupon will be for a free Casey's Pizza, valid only at the Redfield Casey's. The other coupon will be for a free, easy-pick Powerball play.
Iowa Lottery CEO Terry Rich said the lottery is having fun working with Casey's to spread the excitement around.
"We've been proud to be part of this story as the national spotlight shines on Redfield and the state of Iowa," Rich said.
The lucky Redfield ticket split the giant jackpot in the Oct. 27 Powerball drawing with a ticket purchased in New York City. The two tickets shared the jackpot, which breaks down $343.9 million annuity, or $198.1 million lump-sum option for each.
Pictured: (From left) Iowa Lottery CEO Terry Rich and Mike Richardson, Casey's Vice President of Marketing.
For more information, contactMary Neubauer, Iowa Lottery External Relations,at 515-725-7906 ormneubauer@ialottery.com