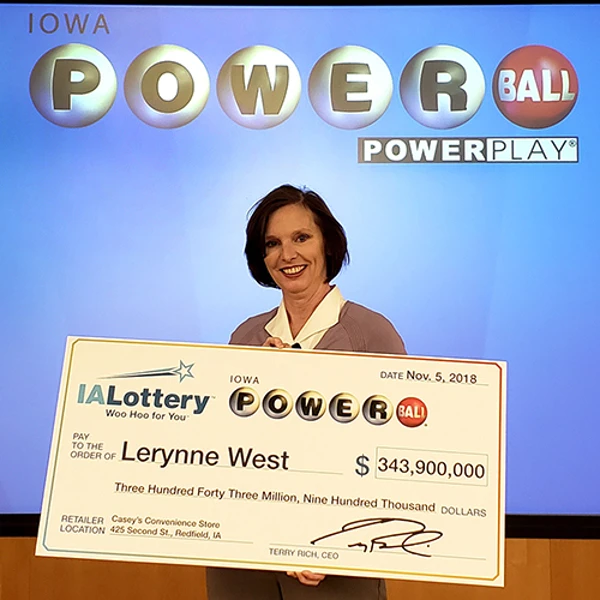 Iowa – A central Iowa woman stepped forward Monday to claim a $343.9 million Powerball jackpot, the largest lottery prize won to date in Iowa.
"I realize this is a life-changing moment," Lerynne West of Redfield said as she claimed her prize at lottery headquarters in Clive. "I'm excited to share my winnings with family and friends, plan to purchase a new car, and look forward to a long vacation – or several. I also plan to give to the causes and organizations important to my family through our newly established Callum Foundation."
West's ticket split the Powerball jackpot in the Oct. 27 drawing with a ticket purchased in New York City. Her half of the jackpot – the third-largest prize in the 26-year history of the game – is $343.9 million annuity, or $198.1 million lump-sum option. The New York ticket has yet to be claimed.
West, 51, bought her jackpot-winning ticket at Casey's, 425 Second St. in Redfield, a Dallas County community of about 830, where she recently bought a house. She was moving into her new home in late October and she and her sister stopped at Casey's for pizza and coffee. While they were there, West bought an easy-pick Powerball ticket. She thought she put her ticket into her purse in her sister's truck, but the jackpot-winning ticket for a time was misplaced – it rode around on the floor of that pickup for a time.
The day after the drawing, West got a text from a friend, asking if she had won the jackpot. She replied that she likely hadn't, but she would check her ticket to see. When she couldn't find her ticket, she called her sister, who found it in her truck. Her sister sent her a picture of the ticket and when West checked her numbers on the lottery website, she realized she'd won the jackpot.
"I told my sister to get in her truck and get that ticket and get up here right now! And, drive slow," West said with a laugh as she recalled that day.
Later that day, West drove by the Casey's store in Redfield and saw television crews setting up to do interviews there about the jackpot-winning ticket.
"I watched them and smiled," she said.
Iowa Lottery CEO Terry Rich said it's exciting to be a part of West's story as Iowa's ninth Powerball jackpot winner.
"The fact that this jackpot was split by tickets in two very different settings – one in New York City and the other in a small rural town – goes to show what we've said so many times: You just never know where the next big winner will hit," he said. "It also shows that Powerball is working the way it was intended, by giving people all across the country the chance to win prizes of all sizes, including the jackpot."
West worked for years in the insurance industry in the Des Moines area, but recently retired early after learning she'd won the lottery. She and her family are organizing the Callum Foundation, named after her grandson, Callum, who was born prematurely in April and lived just a day. The charitable foundation (www.callumfoundation.org) will be focused on making grants in the core areas of alleviating poverty and hunger; education; animal welfare; and veteran's affairs.
West said that once it is fully established, the Callum Foundation will begin accepting requests for help in 2019.
"We have a board set up that will go over the requests and decide what is in the best interests of the Callum Foundation," she said. "The whole thing of knowing when to pull together a team and work on these plans came from years of playing and daydreaming about winning the lottery. Then once it finally happens, it's a whole new ballgame."
West has three adult daughters and six grandchildren, many of whom were with her at the lottery. She also comes from a large family, with seven siblings, some of whom also attended Monday's event, along with their mom.
The jackpot-winning tickets in Iowa and New York both matched all six numbers selected in the Oct. 27 Powerball drawing to split that night's $687.8 million grand prize. The winning numbers were: 8-12-13-19-27 and Powerball 4. The Power Play number was 3.
Casey's will receive a $10,000 bonus from the Iowa Lottery for selling the jackpot winning ticket at one of its stores.
Powerball jackpot winners can choose to receive their prizes in annuitized payments over time or as a one-time, lump-sum payment. The New York and Iowa winners did not have to choose the same option. West chose to receive her winnings in a lump-sum payment.
West's jackpot-winning ticket was Iowa's second big lottery winner during October. A Mega Millions® ticket purchased in Davenport won a $1 million prize in that game's Oct. 23 drawing by matching the first five numbers but missing the Mega Ball. That $1 million prize remains unclaimed, as does a $1 million Powerball prize won in April in Nevada in central Iowa.
Iowa's eight previous Powerball jackpot winners are:
Brian and Mary Lohse of Bondurant, who won a $202.1 million Powerball jackpot in September 2012.
The Shipping 20, a group of co-workers in the shipping department at the Quaker Oats plant in Cedar Rapids, who split a $241 million jackpot in June 2012. That was the largest lottery prize won in Iowa until this week's news.
Tim and Kellie Guderian of Fort Dodge, who claimed a $200.8 million jackpot in October 2006.
Hugh Hawkins of Des Moines, who won a $113.2 million jackpot in December 2005.
Jacquelyn Moore of Omaha, Neb., who won a $14.4 million jackpot in October 2004 (she bought her ticket at a convenience store in Carter Lake in western Iowa).
The Larry Hasken family of Sabula, who claimed a $31.8 million jackpot in January 2000.
Tim Schultz of Des Moines, who won a $28 million jackpot in February 1999.
Ed Brown of Washington, who split a $10.4 million jackpot with a Missouri woman in December 1992.
Prize Details
Annuity
Payments Totaling: $343.9 million
The annuity total would be paid in 30 graduated payments over 29 years. Federal withholding of 24 percent and state withholding of 5 percent would be applied to each payment.
Chosen To Receive As Lump-Sum Option
Prize: $198.1 million
Federal Withholding: $47.5 million (24 percent)
State Withholding: $9.9 million (5 percent)
After-tax prize: $140.6 million
**About the Iowa Lottery:**Since the lottery's start in 1985, its players have won more than $4.2 billion in prizes while the lottery has raised more than $1.9 billion for state programs. Today, lottery proceeds have three main purposes in Iowa. They provide support for our state's veterans and their families through the Iowa Veterans Trust Fund; help for a variety of significant projects through the state General Fund; and backing for the Vision Iowa program, which was implemented to create tourism destinations and community attractions in the state and build and repair schools.