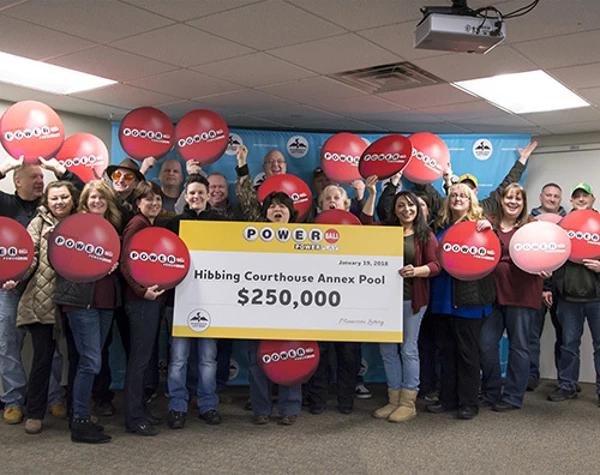 ROSEVILLE, Minn. - The "Hibbing Courthouse Annex Pool" arrived at the Minnesota Lottery's headquarters in Roseville by bus today to claim a $250,000 Powerball prize.
The group of 22 all work in either the St. Louis County Courthouse in Hibbing or in the annex.
Grant Ellis of Hibbing, purchased the ticket and was the first person to discover the win. "We do it once a week," he explained. This week has "been a bit more exciting" than usual he added with a smile.
The group's ticket matched four of the first five Powerball numbers drawn on Jan. 10, plus the Powerball. That would normally be worth $50,000, but since they had added the Power Play option to the ticket, their prize increased to $250,000.
"All of the numbers kept matching," said Ellis. At first he thought their ticket was worth $50,000. "When I found out that it was worth five times that amount, that's when I got really excited!" The news "went around the courthouse like wildfire."
Hibbing Courthouse Annex Pool members: Angela Baumchen of Hibbing, Michael Danks of Hibbing, Stephen Dolinich of Hibbing, Grant Ellis of Hibbing, Tom Gentilini Jr. of Gilbert, Erica Gray of Hibbing, Terri Holmbeck of Nashwauk, Kathleen Lorenz of Nashwauk, Charlene Meinzer of Mountain Iron, Trudi Mellak of Virginia, Marla Padgett of Eveleth, Jeffrey Passeri of Hibbing, Jennifer Reyes of Hibbing, Tyler Schwerzler of Hibbing, Alison Scofield of Hibbing, Jean Seline of Chisholm, Jason Specht of Hibbing, Crystal Suhonen of Hibbing, David Toldo of Chisholm, Jeffrey Vlatkovich of Hibbing, Kenneth Weis of Cohasset and Mandy Zaitz of Hibbing.
Hibbing Short Stop II, located at 1121 E. Howard St. in Hibbing, sold the winning ticket.
The winning Powerball numbers on Jan. 10, 2018 were 7-24-33-49-50 and the Powerball number was 4.
The only number missing from their ticket was "50."