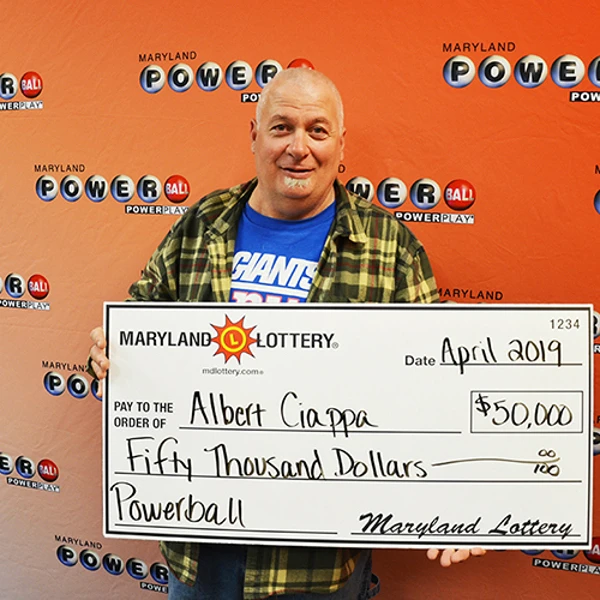 Maryland – Al Ciappa plays the Maryland Lottery's jackpot games – Powerball, Mega Millions and Cash4Life – regularly, so he was paying close attention to news reports when the Powerball jackpot rolled to $750 million — and eventually $768.4 million — for the March 27 drawing.
The 58-year-old carpenter wasn't thinking about any prize other than winning the third-largest jackpot in U.S. history and the second largest in Powerball history.
"I didn't check my tickets because I heard someone won in Wisconsin," said the resident of Chesapeake City, Md. "They were crumpled up at the bottom of my pocket."
It turns out the lucky granddad won $50,000 in the same drawing. His was one of five Powerball tickets sold in Maryland that hit for prizes of $50,000. Nationally, nine tickets hit for $1 million each and 150 won the $50,000 prize.
A timely call from his wife had Al digging in his pocket for the crumpled quick-pick Powerball tickets.
"She said someone at the Eagles Nest had won $50,000," he recalled. The Eagles Nest is a deli, grill, convenience store, gas station and Lottery retailer at 2754 Augustine Herman Highway north of Chesapeake City. The Cecil County business is also the site of Al's *Powerball *purchases. The lucky player checked the crumpled tickets and, sure enough, one of them was worth $50,000!
While he would have preferred to win the jackpot, Al is happy about the smaller, but still substantial hit. The prize will help his extended family as his young granddaughters get older. "It's going in the bank," he said, adding that he will no longer crumple up Lottery tickets after hearing about jackpot winners.