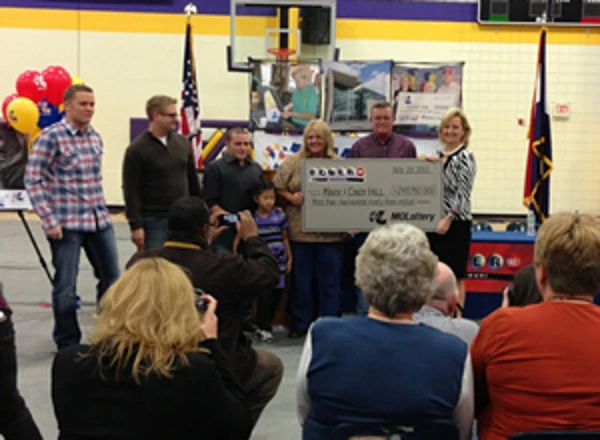 Missouri – A Dearborn couple made Powerball history by winning half of the game's largest jackpot ever and the state's largest prize. Cindy and Mark Hill said they are in shock after discovering they held one of two tickets that matched all six numbers drawn to win the record Nov. 28 jackpot worth $587.5 million.
"I called my husband and told him, 'I think I am having a heart attack,'" Cindy, 51, said. "I think we just won the Lottery!"
Cindy had dropped their daughter off at school and headed to a convenience store to get a winning numbers report after hearing a winning ticket was sold in Missouri. She checked her tickets in the car and drove straight to her mother-in-law's house to have her double-check the ticket. Then she called Mark, and he went to his mom's house to see for himself.
"You know it's the Show Me State, so he said, 'Show me,'" Cindy joked.
Cindy bought the couple's winning combination, along with four others, the night of the drawing at Trex Mart, 17605 Highway Z in Dearborn. She let the computer quick pick the combinations on her ticket. The winning numbers were: 5, 16, 22, 23, 29, and the Powerball was 6.
"I was just telling my daughter the night before, 'Honey, that probably never happens (people winning),'" she mused.
The couple, who adopted a daughter from China five years ago, said they talked about adopting again since finding out about their win. They also plan to help family members, such as paying for college educations for their four granddaughters and their four nieces and nephews.
Cindy said she and Mark haven't had a lot of time to talk about their plans for the windfall, but since her daughter has never seen the beach, they plan to take her to one. She also wants a horse, so "in a couple years, I'd say yes."
Cindy also said Mark, 52, has talked about a red Camaro.
"It's really going to be nice to spend time – not have to work – and be able to take trips with our family," she added.
Cindy Hill worked as an office manager but was laid off in June 2010 due to the loss of a grant. She said she then took a year off to spend time with their daughter and began looking for work recently when her daughter went to first grade. Mark Hill works as a mechanic for Hillshire Brands.
In addition to the Hill's win, Trex Mart will receive a bonus of $50,000 for selling the winning jackpot ticket.