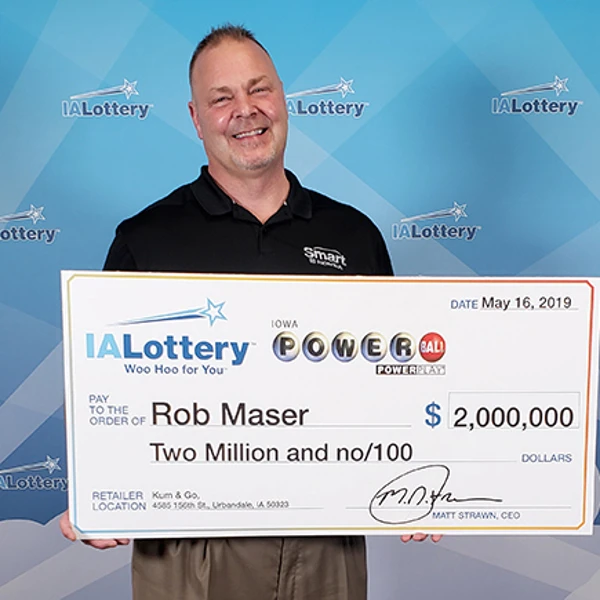 Iowa – A Des Moines-area man said he called person after person after realizing he'd won a $2 million Powerball® prize, and no one believed him – not even his wife or his dad. Rob Maser of Urbandale said he quickly realized that he must have a reputation as a jokester.
"I've told my dad that when I win the lottery, I'm going to buy him a boat," Maser said as he claimed his prize Thursday at lottery headquarters in Clive. "So I called today and I told him I won the lottery, and he said I'm a liar."
Maser, 49, who works at an automotive dealership, was then able to provide photographic evidence to his friends and family, first of the receipt he received showing that his winning ticket had been cashed by the lottery, and later of the paperwork he was filling out to claim his prize.
"This is going to be all retirement," he said. "I'm not quitting my job or anything, but this is going to be a huge cushion for retirement."
Maser said he also plans to buy some things that he and his wife have talked about for their house, like new carpet and paint. And he won't forget that boat for dad.
"It's a huge boost. It's a life changer," he said.
Maser bought his winning ticket at the Kum & Go store at 4585 156th St. in Urbandale, which he said is a regular stop for him on his way to work. He decided on Thursday to stop there to check his ticket from Wednesday's drawing. The staff at the store also apparently didn't believe him at first when he said he'd won big, but then they saw the message on the screen of the lottery terminal showing that he'd won a $2 million prize.
"They said, 'You did win!'" Maser recalled with a laugh as he claimed his winnings. "They've already taken pictures, too. And they're happy."
Maser's ticket came within one number of having at least a share of Wednesday's $250.3 million jackpot. He initially matched the first five numbers but missed the Powerball to win a $1 million prize. But he also added the Power Play® option to his purchase, which multiplied the prize to $2 million.
Maser's ticket was the only one in the country to win a $2 million prize in Wednesday's drawing.
Wednesday's winning numbers were: 7-17-33-61-68 and Powerball 4. The Power Play number was 2. No one matched all six numbers to win the jackpot, so the big prize climbs to an estimated $270 million annuity ($168.9 million lump-sum option) for Saturday.
Kum & Go will receive a $2,000 bonus from the Iowa Lottery for selling the $2 million-winning ticket at one of its stores.
Maser said he always buys the Power Play option on his ticket precisely because of what happened in Wednesday's drawing.
"I would be upset if I won and I only got $1 million instead of $2 million," he said.
Players in $2 Powerball choose their first five numbers from a pool of 69, and another number – called the Powerball – from a separate pool of 26. The Power Play® option is available for an extra $1 per play.
Since getting its start in April 1992 in 15 states with jackpots that started at a guaranteed $2 million, Powerball has grown into one of the world's biggest and most recognizable lottery games. Today Powerball is played by 47 lotteries across the country with drawings at 9:59 p.m. on Wednesdays and Saturdays.