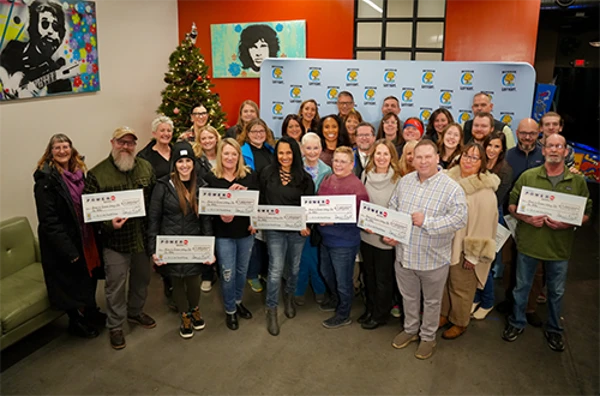 LANSING, Mich. – The Heroes to Zeroooos Lottery Club, made up of 78 nurses, doctors, and other healthcare workers from Traverse City, have claimed a $1 million Powerball prize.
The Heroes to Zeroooos lottery club matched the five white balls in the Oct. 31 drawing to win the big prize: 13-19-36-39-59. The club's representative, Bernard Bossert Jr., bought the winning ticket at the CVS pharmacy, located at 626 West Front Street in Traverse City.
"The Heroes to Zeroooos lottery club started several years ago," said Bossert Jr. "There are about 65 members who consistently play, but anyone can throw in money whenever they choose. I created a Facebook page for the club where I post who contributed for the drawing and then the results the morning after each drawing.
"I purchased a Powerball ticket the afternoon of the drawing and then checked the results the next morning at about 4:30 a.m. When I saw we had won $1 million, I was in shock! I posted in the Facebook group and said I had a special announcement coming later that day and planned to share the good news when I was done with work.
"A few hours later, I posted an article on the Facebook page about a $1 million winning Powerball ticket being sold in Traverse City. After I shared the article, club members began frantically reaching out asking if it was our club who had won, and that's when I shared the big news!"
The club members were presented with their checks at MiddleCoast Brewing in Traverse City this week. Each club member received about $12,800.
"Everyone in our club is ecstatic. This prize is a nice bonus for all of us around the holidays," Bossert Jr. said.
The Powerball jackpot was last won on Nov. 19. One ticket bought in Kansas won the $93 million jackpot. The jackpot for Saturday's drawing stands at $325 million. Powerball tickets are sold in 45 states, Washington D.C., U.S. Virgin Islands, and Puerto Rico.