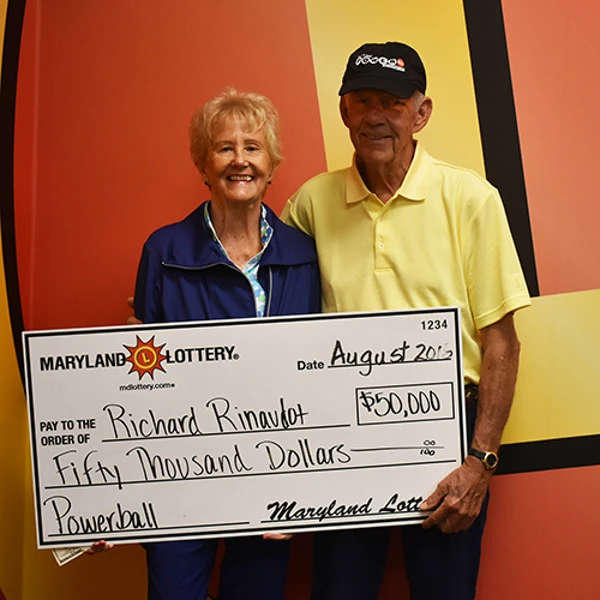 Maryland – A Maryland man who retired to Florida 15 years ago returned to the Old Line State to visit his children and grandchildren in Ocean City and win a $50,000 Powerball prize! Richard Rinaudot missed the jackpot by one number in the Aug. 18 drawing.
The 77-year-old plays both Mega Millionsand *Powerball *weekly. After landing at Baltimore/Washington International Thurgood Marshall Airport on Monday, the winner and his wife drove to Ocean City. Along the way, Richard's wife Jackie wanted to stop for a sandwich and Richard thought it was a perfect time to purchase his Lottery games.
The Sarasota couple pulled into the One Stop convenience store located at 32227 Queen Highway in Queen Anne, Md. Richard bought one quick-pick Powerball ticket and one Mega Millions ticket. They continued on their way to meet family members and he didn't check his tickets until Monday night.
"I went up to a 7-Eleven and asked for a printout" of the winning numbers, Richard said. "Then, I took it back with me and checked the numbers." He matched four white balls and the Powerball! Instead of waking his wife, the happy husband waited until morning to share his great news.
"He told me he had good news and bad news," said Jackie. "I told him to give me the good news first." Well, the bad news was that they missed the jackpot by one number. The good news … they still enjoyed a $50,000 win.
The retired Robert F. Kennedy Memorial Stadium employee also shared the news of his Lottery luck with his son. Asked what he plans to do with the $50,000 prize, the lucky winner told Maryland Lottery officials he will split half of the prize with his wife, help his three adult children financially and maybe take a trip to Las Vegas.