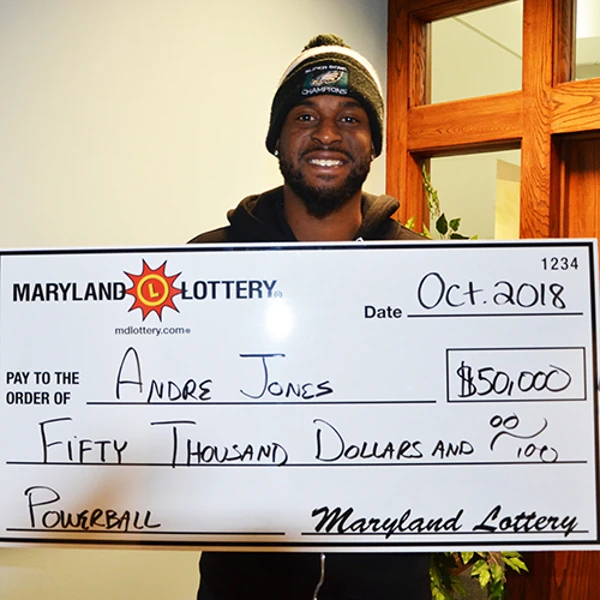 Maryland – "Beginner's luck" is how first-time Maryland Lottery player André Jones, 29, describes his $50,000 Powerball win. He purchased his first ticket ever on Friday, Oct. 19, and hit big in the drawing the following evening.
A professional gospel musician from Upper Marlboro, Andréhad a rehearsal on Oct. 19. He plays keyboards and drums. A change in the weather prompted him to dress warmer, so he went to his closet and pulled out a hoodie he had not worn in quite some time. After rehearsal, he was thirsty so he went to Royal Farms #166 at 1700 Sansbury Road in Upper Marlboro to get something to drink.
"Everyone was talking about Mega Millions," André said. On that day, the Mega Millions jackpot surged past $1 billion. After the drawing that night, it rolled to a record high of $1.537 billion for the Tuesday, Oct. 23 drawing.
"I put my hand in my pocket and felt a piece of paper," Andre said. "I pulled it out and it was a $20 bill. I figured, 'I'm not missing this' and saw a machine and decided to buy $10 worth of Mega Millions tickets. Then, I figured I'd buy $10 worth of Powerball tickets, too."
The Prince George's County resident went about his business on Friday night and Saturday. He woke up during the night Saturday.
"I got up and said, 'Let's see what the numbers are,' " André recalls, noting he was not expecting to win. First, he checked the Mega Millions numbers and saw that one ticket matched the winning numbers for a regular ball plus the Mega ball. He then checked his five Powerball tickets and found a much bigger prize! He matched four out of five of the regular balls, plus the Powerball. Just to be sure, he downloaded the Maryland Lottery App and used it to scan the ticket.
"It said, 'Congratulations, you've won $50,000!' " André said. "It was just a great feeling, not just the money, but the whole experience."
André's grandfather and aunt are regular players of the Pick 3and Pick 4games, so he decided to tell them about his experience in a roundabout way. "I asked if they had won, then I told them, 'I just won $4 in Mega Millions — and $50,000 in Powerball.' "
With his winnings, André plans to pay off some bills and put money away toward buying a house. As for whether the musician will make any instrumental purchases, he said, "I might have to spoil myself!"