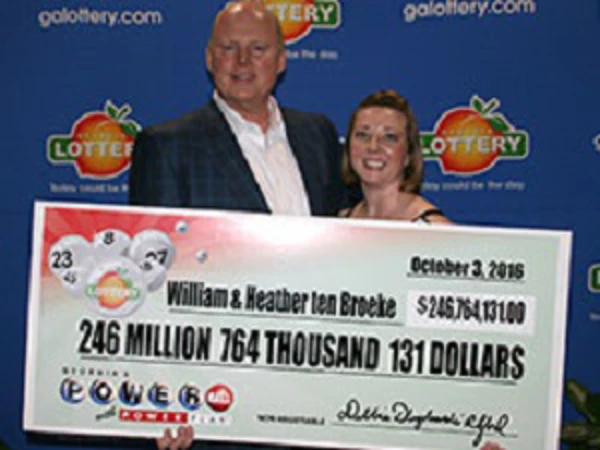 Georgia – William and Heather ten Broeke were grocery shopping when Heather reminded her husband to buy a Powerball ticket for the Sept. 17 drawing.
"Aren't you going to get a ticket?" Mrs. ten Broeke, 38, asked.
"Without her reminding me to buy the ticket, we wouldn't have won," said Mr. ten Broeke, 46.
The ten Broekes arrived at Georgia Lottery headquarters Monday to claim the $246,764,131 million jackpot prize. They selected the cash option, which totaled $165,613,511 before taxes.
A few days after the drawing, they checked their ticket after seeing news reports that the winning ticket purchased in their area still hadn't been claimed.
"We were shocked," Mr. ten Broeke said. "We couldn't believe it. We checked the numbers numerous times."
The ten Broekes reside in the Brookhaven area of Atlanta. Married five years, they have one child and two dogs.
Mr. ten Broeke works as a commercial credit officer. Mrs. Ten Broeke is a cardiac device specialist.
Their immediate plans are to invest, travel, help family and donate to charity.
Publix Super Market #1363 in Brookhaven, 104 Town Blvd., Atlanta, sold the lucky Quik Pik ticket.