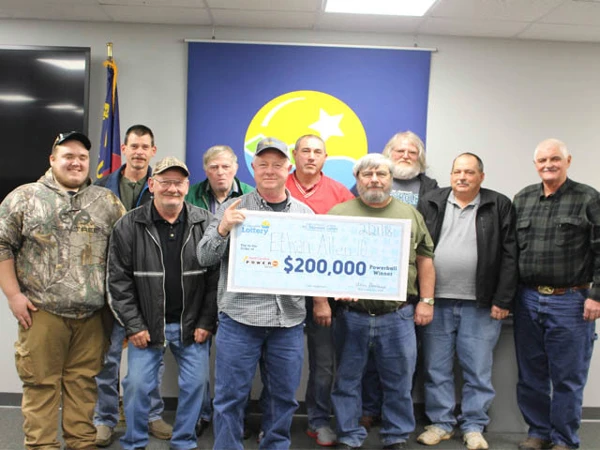 North Carolina – A tradition of playing Powerball together led a group of 10 coworkers to a $200,000 lottery win.
"We've been playing the Powerball every week for the last three years," Ronald Lute of Lincolnton said. "We each pitch in $10 and get our tickets."
So on Saturday, Jan. 20, Lute stopped by Bob's Superette on N.C. 27 West in Lincolnton and got tickets for the Ethan Allen employees.
Dale Hedrick of Newton was the first one to realize they had a winning ticket. "I checked my phone Sunday morning," Hedrick said. "I just kept looking at the numbers. I looked at them so many times, I memorized them."
He immediately called Lute to tell him, but he didn't answer. So Hedrick called Anthony Rowe of Conover instead.
"I couldn't believe we actually won something after playing all these years," Rowe said.
Eric Dellinger of Lincoln was the last to find out. He didn't learn about the win until three days later.
"I was on vacation," Dellinger explained. "I didn't answer my phone because I thought it was work. I couldn't believe it when I finally found out. It's exciting."
Dennis Setzer Jr. of Sherrills Ford, Roger Smith from Lincoln, Matthew Hedrick from Catawba, Randy Jones from Lincolnton, Randy Heavner from Lincolnton, and Johnny Moss from Newton are the other co-workers to win. They claimed their prize Friday at lottery headquarters in Raleigh. After required state and federal tax withholdings, they each took home $14,100. They all say they plan to save the money or use it to pay bills.
The winning ticket beat odds of 1 in 913,129. It matched the numbers on the four white balls and the Powerball to win $50,000. Because the ticket had the $1 Power Play feature, the prize quadrupled to $200,000 when the 4X multiplier was drawn. Just because they won, the group doesn't plan to stop playing.
"We already have our tickets for Saturday's drawing," Lute said. "We're going to play until we match one more number."