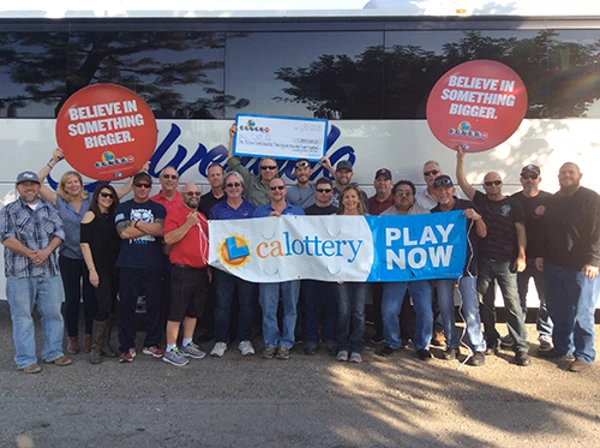 California – They have been trying. Boy, oh boy, have they been trying. We're talking years of never giving up. It just goes to show faith and determination can indeed pay off – literally!
A group of 22 workers from a Las Vegas construction company have been pooling their money every month for more than a decade to playPowerballandMega Millions®. Their loyalty finally paid off when they won a staggering $1,999,845Powerballprize!
These lucky 22 friends work together at Las Vegas Paving Corp. They split nearly $2 million after matching five of the six numbers from the January 31 Powerball draw. The group's winning numbers were 4-7-14-46 and 59.
Ironically, they missed the red Powerball number 22, which is the number of coworkers who pool their money! The group would have won the estimated $128 million jackpot that night, but alas, they had red Powerball number 13. Butnobodyis complaining!
"For some people, this is a life-changer," said Kris Ann Molitor, who works in the company's maintenance division. "To even get (and split) this amount of money, it's a life-changer for all of us!"
This same group of 22 has been trying to hit it big for more than a decade. Tom Hampton faithfully collects all the money from his colleagues and, with his wife, makes the roughly 45-mile monthly pilgrimage to the Primm Valley Lotto store in Nipton, California (I-15 and Stateline). They purchase four weeks' worth ofPowerballandMega MillionsAdvance Play® tickets.
So how did Hampton find out his group of 22 won nearly $2 million? "I woke up to a text from a co-worker (Kirk Molitor)," Hampton recalled. "I thought it was a joke at first. But then I went to work and started telling everyone who didn't already know (that we were millionaires)!"
"I think for a lot of us, once we saw that money in our bank accounts, we were like, 'Oh my gosh, it's real. It's really happened.' Like I said, for a lot of us, it's a game-changer," Molitor said.
The group rented a private bus to claim their lucky ticket at the California Lottery's Inland Empire District Office in San Bernardino, CA. And get this: "As a matter of fact, on the bus ride (from Las Vegas to San Bernardino) we stopped in Barstow (California) and a lot of us bought [Scratchers®] tickets!"
This lucky group of 22 wasn't the only winner from the January 31Powerballdraw. Primm Valley Lotto also received a very nice $10,000 retailer bonus just for selling the winning ticket.
As for the winners who split the nearly $2 million prize (before federal taxes): "Some people are taking vacations, some are investing in their kids' college funds," explained Molitor, who is acting as spokesperson for her co-workers. "My husband Kirk and I were able to pay our house off with the winnings and are now debt-free!"
The big question now – is the group of 22 still interested in playing the California Lottery,andmaking that nearly one-hour monthly drive to Stateline? "Of course! Why stop now?" Hampton said. "I already have everyone's money for the next draws!"