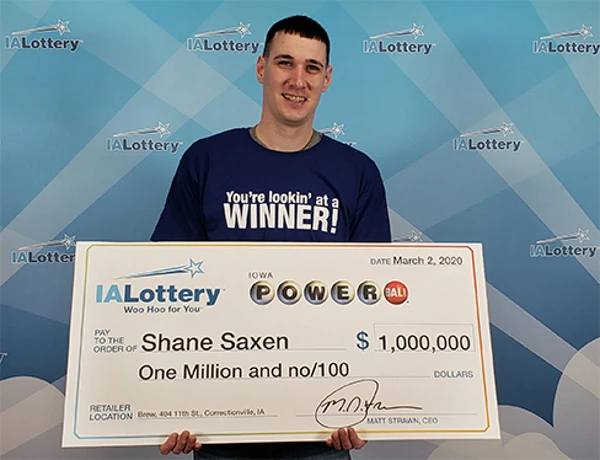 CLIVE, Iowa — A northwest Iowa man bought a Powerball ticket at a time he normally wouldn't and ended up winning a $1 million prize.
"I usually wait until the jackpot's up really high, and then I'll buy a ticket," Shane Saxen of Correctionville said as he claimed his prize Monday at Iowa Lottery headquarters in Clive. "In this case, I just decided, 'Why not? I'll get one.'"
Saxen's ticket came within one number of having at least a share of Saturday's $80 million Powerball jackpot. He matched the first five numbers but missed the Powerball to win a $1 million prize.
News that someone had won big in Correctionville spread quickly in the Woodbury County community of about 800.
"My sister heard that there was a $1 million prize and asked if I bought a ticket," Saxen said. "And I said, 'Yes,' so she goes, 'Well go get your ticket and I'll check your numbers.' And I checked my ticket and I had the winning numbers!
"At first I didn't believe her, and I said, 'No way,'" he recalled. "And then she's like, 'No, seriously. For real.' I just kind of paused for a second and my stomach dropped. And it was cool."
Saxen bought his easy-pick ticket at Brew, a convenience store and coffee shop at 404 11th St. in Correctionville. His big win came on Feb. 29, the Leap Year date that falls on a Saturday, one of the days when Powerball drawings occur, only about every 28 years.
Saturday's winning Powerball numbers were: 24-44-46-50-51 and Powerball 13. The Power Play® number was 3. No one matched all six numbers to win the jackpot, so the big prize climbs to an estimated $90 million annuity ($67.9 million lump-sum option) for Wednesday.
Brew will receive a $1,000 bonus from the Iowa Lottery for selling the $1 million-winning ticket at one of its stores.
Saxen, 31, who works as a campus security officer at Briar Cliff University in Sioux City, said he plans to invest most of his winnings for retirement planning, and there likely will be a new set of wheels in his future.
"I'll probably trade in my vehicle now for a new vehicle," he said. "I'll be doing some thinking about what I want to do."
And he's glad that his sister sped up his timeline in checking his ticket.
"I would have probably heard about somebody winning it and then obviously I would have known I bought a ticket. I know I would have eventually checked mine," he said. "Everyone's talking about it!"
Players in $2 Powerball choose their first five numbers from a pool of 69, and another number – called the Powerball – from a separate pool of 26. The Power Play® option is available for an extra $1 per play.
Since getting its start in April 1992 in 15 states with jackpots that started at a guaranteed $2 million, Powerball has grown into one of the world's biggest and most recognizable lottery games. Today Powerball is played by 48 lotteries across the country with drawings at 9:59 p.m. on Wednesdays and Saturdays.
---
**About the Iowa Lottery:**Since the lottery's start in 1985, its players have won more than $4.5 billion in prizes while the lottery has raised more than $2 billion for state programs. Today, lottery proceeds have four main purposes in Iowa. They provide support for our state's veterans and their families through the Iowa Veterans Trust Fund; support through the Iowa Public Safety Survivor Benefits Fund for the family members of Iowa peace officers and fire fighters who die in the line of duty; help for a variety of significant projects through the state General Fund; and backing for the Vision Iowa program, which was implemented to create tourism destinations and community attractions in the state and build and repair schools.