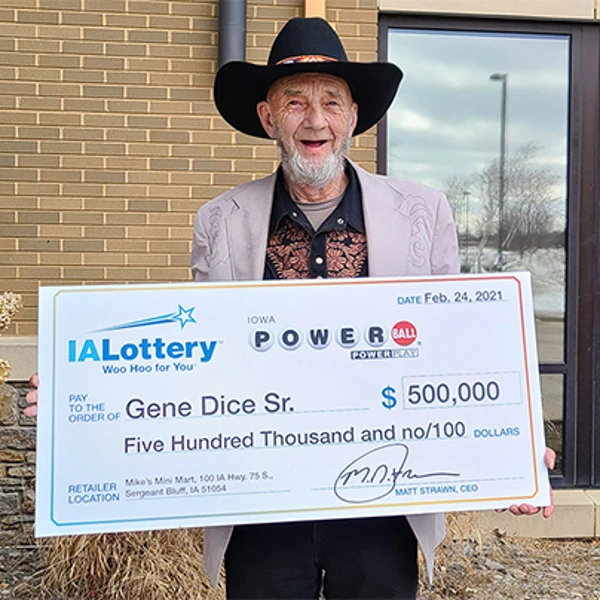 Iowa – A Woodbury County man learned during his morning stop for coffee that he'd won a $500,000 Powerball® prize.
Gene Dice Sr. of Sergeant Bluff said he stops for coffee most days at a local convenience store and during his visit there on Sunday, he asked the clerk to check his Powerball ticket from the previous night's drawing.
"She just said it was a big winner," Dice recalled as he claimed his prize Wednesday at Iowa Lottery headquarters in Clive. "At first she thought it was $50,000. And then I looked at it and I told her she read it wrong, that it says $500,000. She was jumping up and down, I thought she was going to jump right out of her shoes!"
Dice, 73, who is retired, said he didn't believe the news at first.
"I thought she was giving me a bad time," he said. "This is one that kind of gives me a bad time sometimes.
"Of course, that's only because I really give her a bad time," he admitted with a grin.
Apparently, jokes are standard in his life because he also had a hard time getting his three adult children to believe his news.
"No joke! We have the ticket," he said.
Dice bought his $500,000-winning ticket at Mike's Mini Mart, 100 Iowa Highway 75 S. in Sergeant Bluff. His ticket came within one number of having at least a share of Saturday's $81.3 million jackpot.
Dice matched four of the first five numbers and the Powerball to initially win a $50,000 prize. But because he also added the Power Play® option to his easy-pick ticket, his winnings were multiplied to $500,000.
Dice said that he always adds the Power Play to his ticket and is especially glad he did that with Saturday's 10X multiplier.
"Put the Power Play on there and see what happens!" he said.
Saturday's winning numbers were: 4-8-22-32-58 and Powerball 4. The Power Play number was 10. Dice's ticket was one of nine across the country to win a $500,000 prize that night.
Mike's Mini Mart will receive a $500 bonus from the Iowa Lottery for selling the $500,000-winning ticket.
Dice said he plans to use part of his winnings to pay off his car and truck, and added that his big win has helped alleviate his retirement worries.
Players in $2 Powerball choose their first five numbers from a pool of 69, and another number – called the Powerball – from a separate pool of 26. The Power Play® option is available for an extra $1 per play.
Since getting its start in April 1992 in 15 states with jackpots that started at a guaranteed $2 million, Powerball has grown into one of the world's biggest and most recognizable lottery games. Today Powerball is played by 48 lotteries across the country with drawings at 9:59 p.m. on Wednesdays and Saturdays.