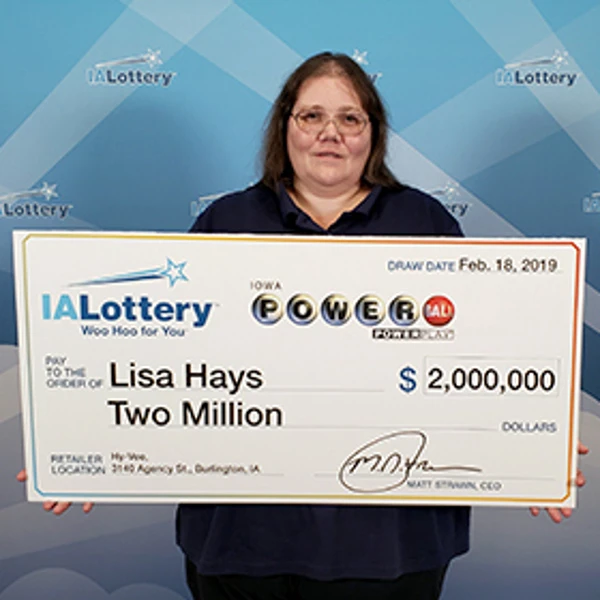 Iowa – An Illinois woman has plans to buy a house and a new car and get a big jump start on her retirement planning now that she has won a $2 million Powerball® prize.
"If I do it right, this should set me up for the rest of my life," Lisa Hays said as she claimed her prize Monday at Iowa Lottery headquarters in Clive.
Hays lives in Monmouth, Ill., but was shopping in Burlington when she decided to buy two Powerball plays on one ticket for the Feb. 9 drawing. She won $12 on the first play for matching just the Powerball, and $2 million on her second play for matching the first five numbers but missing the Powerball. Hays said she realizes that if the numbers from the two plays had been combined differently, she could have won that night's jackpot.
"But $2 million is great!" she said with a laugh. "I've been freaking out for a week."
Hays, 49, who works as a teacher, said she looked up the winning numbers the day after the Powerball drawing and initially was happy with a $12 win. Then she noticed what she had matched on the next line of numbers on her ticket.
"I saw, 'Wait a minute, there's five numbers here!' So I called my mom and had her look at it,'" she recalled as her eyes filled with tears.
Hays bought her winning Powerball ticket at Hy-Vee, 3140 Agency St. in Burlington. Because she had added the Power Play®option to her purchase, her initial winnings were multiplied. Her $4 initial prize for matching just the Powerball on her first play was multiplied to $12, while her $1 million prize for matching the first five numbers on her second play was doubled to $2 million.
Hays said she buys Powerball tickets when the jackpot really gets up there, and she generally uses the easy-pick option, which lets the lottery terminal determine the numbers on her ticket.
The winning numbers in the Feb. 9 Powerball drawing were: 1-2-3-7-39 and Powerball 25. No one matched all six numbers that night to win the jackpot and the big prize has continued to climb since then, now standing at an estimated $282 million annuity ($171.4 million lump-sum option) for Wednesday.
Hays admitted that she shared the news about her big lottery win before coming forward to claim her prize.
"Everyone at work knows!" she said. "And car dealerships know from when I was looking for a car."
Hy-Vee will receive a $2,000 bonus from the Iowa Lottery for selling the $2 million-winning ticket at one of its stores.
Earlier this month, a Quad-Cities man claimed a $1 million Mega Millions® prize with a ticket he purchased at a central-Iowa convenience store for that game's Jan. 15 drawing. Danny Lovett, a trucker driver from East Moline, Ill., claimed his $1 million prize on Feb. 4.
Still another big Powerball prize in central Iowa remains unclaimed. That $1 million prize was won with a ticket purchased in Nevada for the Powerball drawing on April 11, 2018. Powerball prizes won in Iowa must be claimed within 365 days of the drawing for which they were won, so the Nevada prize will expire in about two months - at 4 p.m. on April 11 - if it is not claimed before then. The lottery reminds players to double-check their tickets for any prize they may have won.