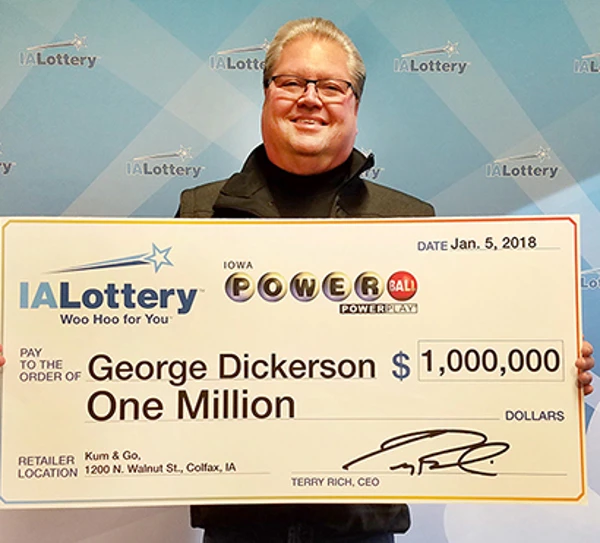 Iowa – A central Iowa man said the cold weather almost kept him at home, but at the last minute, he decided to go out and buy Powerball tickets on New Year's weekend - and he won a $1 million prize.
"I almost didn't go. It was freezing out," George Dickerson of Colfax said as he claimed his $1 million prize Friday at lottery headquarters in Clive. "But I thought, 'Well, you'd better go get them.' So I went out and got them."
Dickerson, 57, said the lottery terminal wasn't working at the first store he stopped at, so he had to quickly drive to another location to buy tickets just a few minutes before the sales cut-off for the Powerball drawing on Dec. 30. He won a $1 million prize in that night's drawing, matching the first five numbers but missing the Powerball.
Dickerson, who along with his family owns Dickerson Mechanical Inc., a plumbing, heating and electrical business, said he has believed he would win the lottery for a few years now.
"In 2010, we had a flood," he said. "We lost almost everything we had in the flood from our Dickerson Mechanical business. Ever since then, I've told all our friends, 'I'm going to hit the lotto. I don't know when I'm going to do it, but you'd just better believe me, I'm going to hit it.'"
Dickerson said that when a friend called him Sunday morning to say that someone in Colfax had won $1 million, he immediately thought it must be him.
"I just thought that you have to have luck in life," he said. "We were really almost going to have to go broke. We sat up in bed one night and said, 'We're not going to do this to people. We wouldn't like it if somebody did that to us and we're going to fight through it.'
"Our son was wanting to get into the business with us and so we fought through it," he said. "Our bank started working with us and now we are actually doing awesome. And so we're going to make it through it."
Dickerson was accompanied to claim his prize by his wife, Kathy, and their son and daughter-in-law. The Dickersons also have two adult daughters.
George Dickerson said that winning the lottery has taken away some of their worry about the future.
"We've had zero retirement because it took everything," he said. "We've been worried sick about what we're going to do to retire sometime because it took it all. We went to the CPA and the banker and we talked to them yesterday. We're better this week than we were last week."
Dickerson bought his $1 million-winning ticket at the Kum & Go convenience store at 1200 N. Walnut St. in Colfax. His ticket came within one number of having at least a share of Saturday's $390.1 million jackpot, matching the first five numbers but missing the Powerball. No one matched all six numbers to win the jackpot, so the big prize climbs to an estimated $440 million annuity ($278.3 million cash option) for Wednesday.
Saturday's winning numbers were: 28-36-41-51-58 and Powerball 24. The Power Play number was 2. The Colfax ticket was one of only three across the country that won a $1 million prize that night, with the others sold in New Hampshire and New Jersey.
Kum & Go will receive a $1,000 bonus from the lottery for selling the $1 million-winning ticket at one of its stores.
Kathy Dickerson said she at first didn't believe her husband when he told her the good news.
"He was sitting at the kitchen counter and said, 'I think I won!'" she recalled with a smile. "I said, 'No, you didn't. Quit messing with me.' He said it again so I finally walked around the counter to see what he was looking at and said, 'You read them to me.' He read them to me and I said, 'It looks like you won!'"