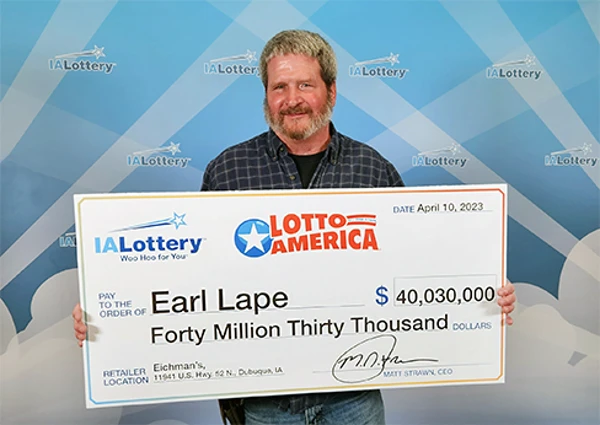 CLIVE, Iowa — A Dubuque man bought a jackpot-winning lottery ticket on April Fools' Day and even he had trouble believing that his incredible luck was real.
"I laughed. I thought it was April Fools," Earl Lape recalled as he claimed his $40.03 million jackpot prize on Monday at Iowa Lottery headquarters in Clive. "I thought it was a joke."
Lape, 61, a retired mechanic, said he finally started to believe the news when he took his winning ticket to the local store where he bought it and had it checked on the lottery terminal.
"I had already signed it, so I handed it to her," Lape said. "She scanned it and then smiled and said, 'You are the winner!'"
Lape chose to receive his winnings in the lump-sum option of $21.28 million. He said he planned to invest his winnings so the money could help his family for generations to come. He also is planning donations to organizations that benefit children with medical issues, specifically the University of Iowa Stead Family Children's Hospital in Iowa City, and Blank Children's Hospital in Des Moines.
"If it weren't for our parents to show us the way, where would we be? That's why I want to help kids," Lape said. "A lot of parents don't have money and a lot of insurance companies don't cover it, but the kids still need treatment."
Lape's jackpot-winning ticket matched all six numbers in the April 1 Lotto America drawing, which were: 2-38-43-46-51 and Star Ball® 7. The jackpot that night was a record for the Lotto America game: $40.03 million annuity, $21.28 million cash option.
The Lotto America jackpot had been growing since July 2021. Before this latest run, the game's jackpot record was a $22.82 million prize won in March 2018 by a Minnesota family. Lape said he likes to play Lotto America because it offers better odds of winning than the larger multi-state games, Powerball® and Mega Millions®.
"My odds are way better in that game," he said.
Lotto America is known as Powerball's smaller cousin. The game costs $1 to play and has drawings on Mondays, Wednesdays and Saturdays, just like Powerball®. It has the same playstyle as Powerball, with players selecting numbers from two separate pools for a chance to win.
But Lotto America's jackpots start at a smaller level and the game has easier odds of winning. Lotto America is sold by 13 lotteries, while Powerball is offered by 48.
Players in Lotto America choose five numbers from a pool of 52 and another number, called the Star Ball, from a pool of 10. Players who match all six numbers in a drawing win the game's jackpot. The odds of winning the jackpot in Lotto America are around 1 in 26 million, compared to odds of about 1 in 292.2 million of winning the Powerball jackpot and about 1 in 302.6 million of winning the Mega Millions® jackpot.
One of the first people Lape shared his jackpot-winning news with was Randy Davis, his best friend since childhood. Davis, who was with Lape for moral support as he claimed his prize, said he also initially didn't believe the news.
"I just didn't believe him at first. I didn't believe him that Sunday night until the next morning," Davis said. "And I started to believe him when I started seeing some things online. And he stuck to the story, so I thought, 'Well, it might be true!'"
Lape said that before he won the jackpot, he was in the process of buying the home of his long-time girlfriend who passed away in August 2022. He said that winning the lottery will mean he can pay for the house as well as the repairs and updates it needs.
"Her sons asked me if I really wanted to house now, and I said, 'Yeah!'" Lape recalled.
Lape bought his jackpot-winning ticket at Eichman's, a restaurant and convenience store at 11941 U.S. Highway 52 N. in Dubuque that is a regular stop for him. Eichman's will receive a $5,000 bonus from the Iowa Lottery for selling the jackpot-winning Lotto America ticket.
This is the second Lotto America jackpot won in Iowa. A Davenport man won a $4.38 million jackpot in the game in May 2018.
Jackpot amount: $40.03 million annuity, $21.28 million lump-sum option
Chosen as: $21.28 million lump sum
Federal withholding: $5.1 million (24 percent)
State withholding: $1.05 million (5 percent)
NET AMOUNT: $15.1 million
About the Iowa Lottery: Since the lottery's start in 1985, its players have won more than $5.4 billion in prizes while the lottery has raised more than $2.3 billion for state programs. Today, lottery proceeds help our state in multiple ways. They help Iowa veterans and their families through the Iowa Veterans Trust Fund. They help with ongoing insurance costs for the families of Iowa peace officers, firefighters and corrections employees who die in the line of duty. And they provide help for a variety of significant projects through the state General Fund.