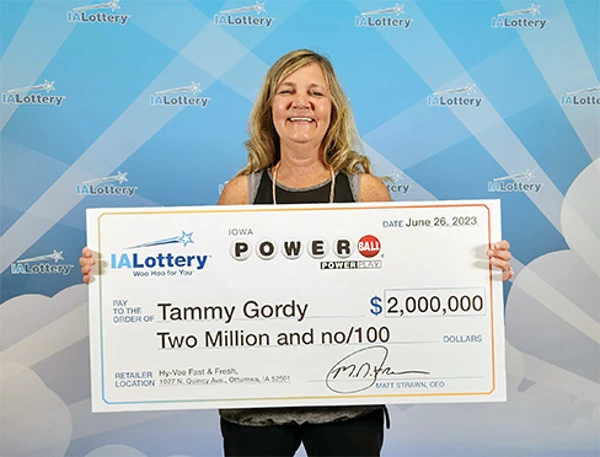 CLIVE, Iowa — Iowa's newest $2 million Powerball® winner plans to use part of her winnings to finish the home she and her husband are building years after they lost a house in a tornado. But now their new home will have some upgrades.
"We were in the process of building a home and it kind of got put on hold for a few years, so now this is going to speed it up," Tammy Gordy of Ottumwa said as she claimed her prize Monday afternoon at Iowa Lottery headquarters in Clive. "And it's going to go into better details! I'm talking a walk-in closet and a Jacuzzi tub! That's what I'm talking about!"
Gordy, 56, a dietary aide at a local hospital, said that she and her husband, Steve, lived in Agency in April 2001 when the Wapello County community was heavily damaged by a tornado. The Gordys' home was destroyed in the storm.
"We've never been material people, I can say that," Tammy Gordy said. "Family was more important to us. So, it's going to be that way. We're just going to be able to do more things."
Tammy Gordy said she realized she'd won big when she used the Iowa Lottery's mobile app Sunday morning to check some lottery tickets she had in her purse. She was flabbergasted when the results of one of her Powerball tickets showed it had won a $2 million prize.
"I fell into my chair," Gordy said. "I couldn't see! There were all those zeroes! I was like, 'Maybe I need my glasses.' So yeah, we screamed."
Steve Gordy said he wasn't sure what to think at first from his wife's reaction.
"She jumped up and was saying … well, not English, but other words I couldn't understand," he said. "And then I looked over and there were a lot of zeroes. Then we didn't know what it was until we got our senses back."
Tammy Gordy's ticket matched the first five numbers but missed the Powerball to initially win a $1 million prize in the game's Saturday drawing. But she had added the Power Play® option to her play, which multiplied prizes at the Match 5 level to $2 million.
Tammy Gordy said she bought just one easy-pick ticket for Saturday's drawing and it was the only one in the country to win a $2 million prize that night.
"I just couldn't comprehend that," she said. Gordy bought her winning ticket at Hy-Vee Fast & Fresh, 1027 N. Quincy Ave. in Ottumwa. Saturday's winning Powerball numbers were: 2-38-44-50-62 and Powerball 19. The Power Play number was 3.
Hy-Vee will receive a $2,000 bonus from the Iowa Lottery for selling the $2 million ticket.
Tammy Gordy claimed the first of three big lottery prizes in Iowa that were won during a 48-hour period. The first was a $1 million Mega Millions® prize in that game's Friday drawing, followed by an InstaPlay jackpot of nearly $400,000 and Gordy's Powerball prize of $2 million, both won on Saturday.
The Mega Millions and InstaPlay prizes, won in Davenport and Cascade respectively, have yet to be claimed.
Tammy Gordy said she told the truth when she asked for time off from work to claim her lottery prize.
"I called my boss and told him that I needed to take Monday and Tuesday off because I won $2 million on the Powerball," she said. "And so he says, 'Well, congratulations, if you're not April Foolin' me!'"
Tammy Gordy said that she and Steve shared the news with their four adult children and their extended family before claiming their prize and had a hard time getting them to believe the news at first.
"I am a jokester, but not to that extent," she said.
Powerball and Mega Millions are both lotto games with jackpot prizes that have topped $1 billion. But while Powerball's drawings are on Mondays, Wednesdays and Saturdays, Mega Millions drawings are on Tuesdays and Fridays.