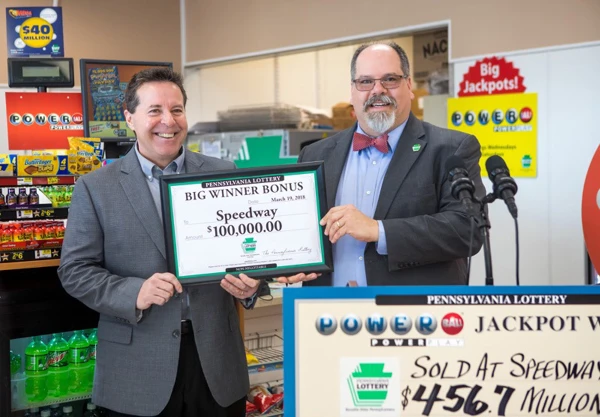 Middletown, PA – The Pennsylvania Lottery today congratulated Speedway, 675 Lancaster Road, Manheim, Lancaster County, for selling the jackpot-winning ticket from the March 17, 2018, Powerball® drawing. The ticket won Powerball's eighth-largest jackpot on record, worth a $456.7 million annuity value or $273.9 million cash, less applicable withholding.
"This is largest jackpot the Pennsylvania Lottery has ever awarded as well as our state's 18th Powerball jackpot," said Lottery Executive Director Drew Svitko. "It seems that St. Patrick's Day brought some great luck to this fortunate Powerball player and we are anxious to meet our big winner or winners."
The ticket correctly matched all five white balls, 22-57-59-60-66, and the red Powerball 07, to win a jackpot that had been growing since January 10. The jackpot rolled 19 times before finally being won.
Lottery officials cannot confirm the identity of the winner until the prize is claimed and the ticket is validated. Pennsylvania Lottery Powerball winners have one year from the drawing date to claim prizes. The Lottery encourages the holder of the winning ticket to sign the back of the ticket, call the Lottery at 717-702-8146 and file a claim at Lottery headquarters in Middletown, Dauphin County.
The winner may choose between accepting a $456.7 million annuity (30 payments over 29 years) or a lump sum of $273.9 million cash. Both amounts are before tax withholding. The chances of winning the Powerball jackpot are approximately 1 in 292 million.
"I'm happy to congratulate Speedway for earning a $100,000 bonus for selling this huge winning ticket," Svitko added. "I also want to congratulate the more than 113,000 other Pennsylvania Lottery Powerball players who won prizes of varying amounts in Saturday's drawing, and thank everyone who played."
This is the Pennsylvania Lottery's 20th multi-state jackpot winner. It has sold 18 jackpot-winning Powerball tickets since joining the game in 2002 and two jackpot-winning Mega Millions® ticket since joining the game in 2010.