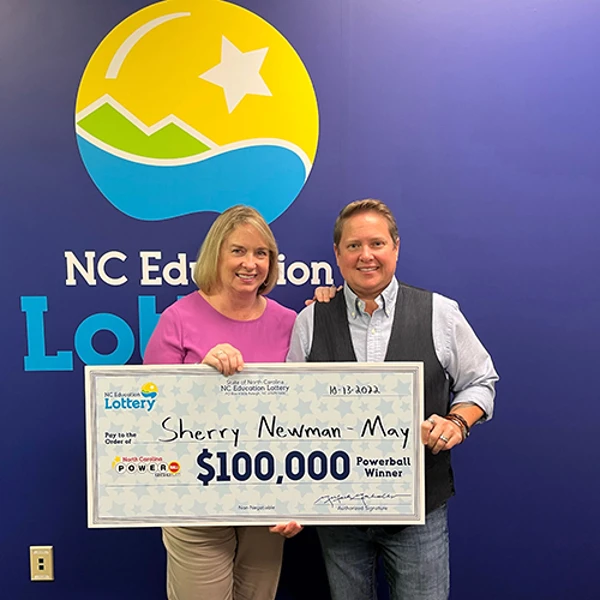 North Carolina – Sherry Newman-May of Willow Spring celebrated early Tuesday morning after her lucky numbers delivered her a $100,000 Powerball prize.
"We picked some of our favorite numbers and we've been playing them for years," she said. "I guess it paid off."
Newman-May, 56, bought her lucky $3 Power Play ticket for Monday's Powerball drawing using Online Play on the lottery's website. She said she started buying her tickets online during COVID because of the convenience.
She matched numbers on four white balls and the Powerball to win $50,000. The prize doubled to $100,000 when the 2X Power Play multiplier hit
"When I saw the numbers, I just thought, 'Oh my goodness,'" Newman-May said. "I was in a little bit of shock."
She claimed her prize Thursday at lottery headquarters and, after required federal and state tax withholdings, took home $71,011. She said she would use her winnings to pay some bills and put the rest in the bank.
This weekend, both the Powerball and Mega Million games offer jackpots topping $450 million.
Friday's Mega Millions jackpot stands at $494 million, or $248.7 million in cash. The odds of winning a Mega Millions jackpot are 1 in 302 million. Saturday's Powerball drawing offers a $454 million jackpot, or $232.6 million in cash. The odds of winning a Powerball jackpot are 1 in 292 million.
Players can buy their Powerball or Mega Millions tickets at a retail location or with Online Play through the lottery's website or with the NC Lottery Official Mobile App.
Ticket sales from draw games like Powerball make it possible for the lottery to raise $2.5 million a day on average for education. For details on how $14.4 million raised by the lottery made a difference in Johnston County in 2021, visit www.nclottery.com and click on the "Impact" section.