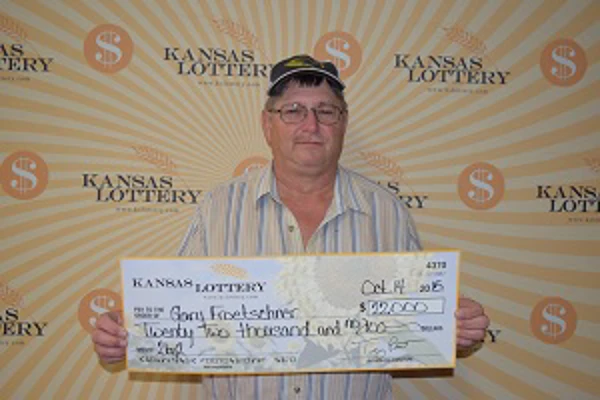 Kansas – For the last couple of months, Gary Froetschner has been purchasing the Kansas Lottery's Fast 5 sampler twice a week. The $6 Fast 5 sampler includes Quick Pick tickets for Powerball, Mega Millions, Hot Lotto, Super Kansas Cash and 2by2. When checking his Fast 5 tickets from the October 14 drawings, Froetschner received a big surprise. He had matched both Red numbers 2 and 8 and both White numbers 6 and 21 in that night's 2by2 drawing, winning a $22,000 cash prize!
"I've never played 2by2 until I started buying the Fast 5 sampler," said the lucky winner. "I've won several free tickets and other small prizes playing the game. I never expected to win $22,000!"
Froetschner didn't realize he was holding the $22,000 winning ticket until a couple of weeks after the October 14 drawing.
"I was busy harvesting and cutting milo," said Froetschner. "When I checked my tickets at the bar where I always buy my tickets, I thought something was wrong with the self-checker because a message came up that said to sign the back of my ticket and claim it at the Lottery. I asked the bar's owner to check my ticket and when he scanned it, he looked at me and said, 'You just won big money!' To celebrate, I bought a round of drinks for everyone."
Froetschner and his wife Brenda, who have been married 37 years, have three grown children and four grandchildren. They plan to build a new deck on their house and purchase a hot tub with their winnings.