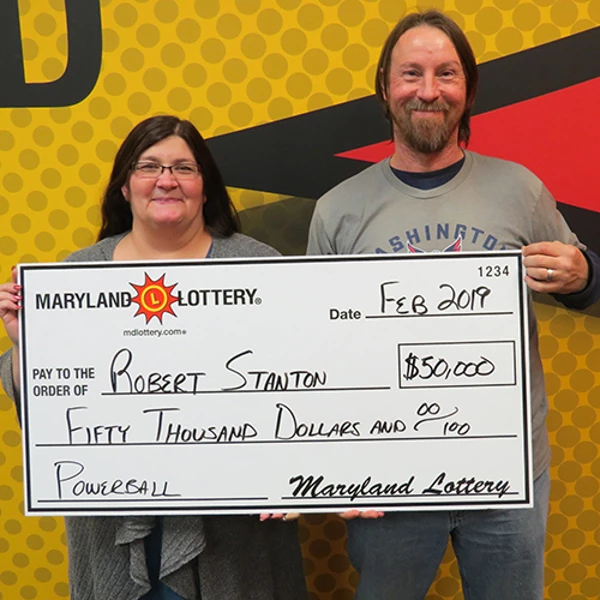 Maryland – Robert Stanton, a utility worker in Anne Arundel County, Md., is what Maryland Lottery officials refer to as a "jackpot hunter." While he may buy a Pick 4 ticket or scratch-off occasionally, this Lottery player is after the bigger money that a Mega Millions or Powerball jackpot can deliver.
Although he missed hitting the jackpot, the 46-year-old was more than pleased to claim a $50,000 prize in the Jan. 30 drawing!
Important family dates are usually his focus when picking numbers for the two big jackpot games. The day before the drawing, he bought a $10 ticket at 7-Eleven #24841 in College Park, Md. His ticket carried one quick-pick line of numbers and four lines of personal numbers. The result — he was one of three $50,000 Maryland winners in the drawing.
"I checked my ticket on the Lottery App and immediately recognized four numbers," said the husband and father. "Three numbers and the Power Ball is $100, so I was happy. I went to the 7-Eleven and the cashier told me that she couldn't cash it. I was confused."
His puzzlement turned to shock and then to relief when the smiling cashier handed him a printout showing the $50,000 prize he had coming to him. "I was blown away," he said. "I think the clerk was as surprised as I was. We had a mini-celebration, she and I."
Returning to his Crofton home immediately, Robert had to wait for his wife's arrival. "I suggested that she sit down first – she didn't – and then I told her the news." His wife Suzanne recalls the big moment well. "I wish I had sat down," she said. "My knees certainly got a little wobbly."
The Stanton family are in the market for a new home and their *Powerball *prize is a huge help. "We've been looking for a few weeks and have gone back and forth about how to handle a down payment. That conversation has gotten a lot easier all of a sudden," he said.