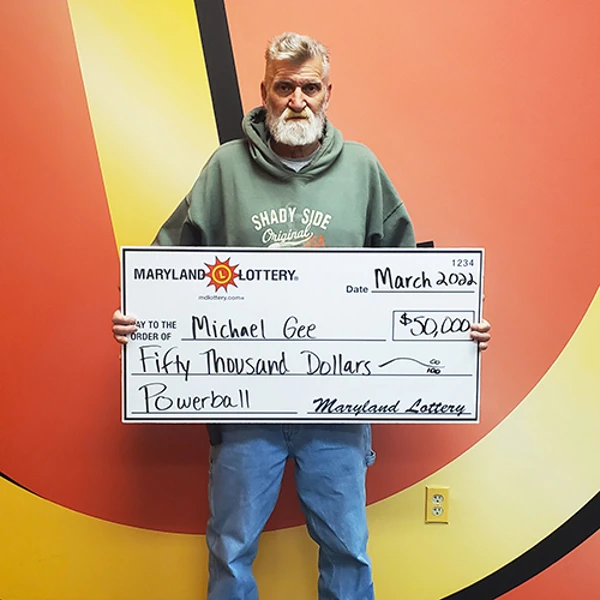 Maryland – "No guts, no glory," is what a 64-year-old Anne Arundel County, Maryland resident said about his recent brush with Lottery luck. "This happens to be the glory."
Michael Gee of Shady Side, Md., won a glorious $50,000 Powerball prize in the Feb. 26 drawing. The jackpot chaser, who plays both* Powerball* and Mega Millions, was hoping for a big win when he visited his favorite Lottery retailer, Shady Side Market, on Feb. 24. He purchased two Powerball tickets and three Mega Millions tickets at the store located at 1481 Snug Harbor in Shady Side.
"I always buy three of the game whose jackpot is the highest," said Michael. At the time, the Mega Millions jackpot was the larger of the two games. Michael put the tickets away in his wallet and continued to enjoy his weekend. It wasn't until Monday that his big win was revealed.
"My nephew called me and told me someone hit $50,000 on Powerball at Shady Side," said the lucky player. "So, I ran up there (to the market) to check." Sure enough, when Michael scanned his $4 Powerball quick-pick ticket at the store, the scanner showed that he won the big prize. However, to be certain, he asked the cashier to check his ticket, too.
"The cashier just looked at me, held out his hand for a shake and said, 'Congratulations!' " said the winner, smiling. Michael had matched four white balls and the red Powerball for a third-tier win.
The lucky player said he then called his nephew to share his good news. The father of two adult children and three grandchildren also called his wife and kids to tell them about the win. The superintendent for Belt Built Contracting claimed his prize on Friday.
Michael shared with Lottery officials that he's been having car trouble and can now get his vehicle repaired. He also plans to put some of the funds toward his wife's upcoming out-of-state vacation.
Since its inception in 1973, the Maryland Lottery has awarded more than $29.8 billion in prizes to players and contributed more than $17.9 billion to the State of Maryland. One of Maryland's largest revenue sources, the Lottery supports important state programs and services including education, public safety and health, human resources and the environment. For more information, go tomdgamblinghelp.org* *or call 1-800-GAMBLER