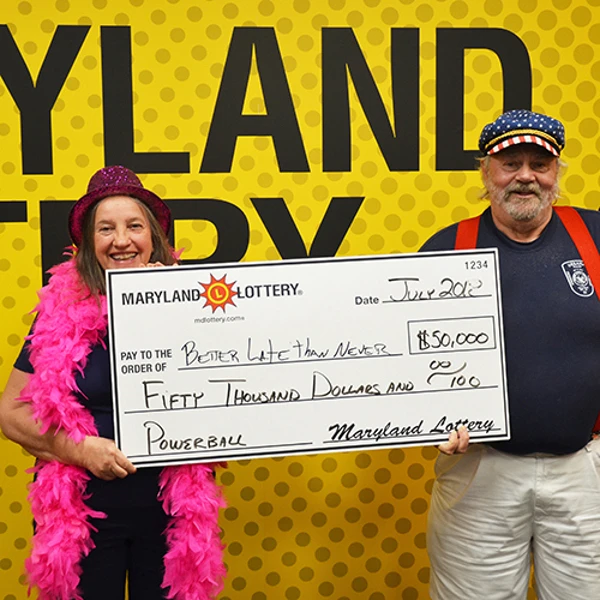 Maryland – When it came to cashing in a $50,000 Powerball ticket, it was a case of "Better Late than Never" for a Maryland woman from the Frederick County community of Monrovia.
The Lottery fan has played games since the Maryland Lottery's start in 1973. Back on Feb. 17, the 68-year-old winner and her husband were getting lunch at Brown's Liquors & Deli at 908 East Patrick Street in Frederick (the couple recommends the barbecue), when she decided to buy a Powerball ticket. She bought a $2 quick-pick ticket and didn't give Lottery luck another thought.
"It was in my purse for a long time," said the mother of two adult children, grandmother of four and great-grandmother to one. Weeks passed before she remembered her Powerball purchase.
"I was thinking, 'I've got a Lottery ticket laying around here somewhere.' " Well, "Better Late than Never" — as she dubbed herself for Lottery publicity — found the ticket and checked it on a scanner at a retailer. She won! The scanner also told her to cash the ticket at Lottery headquarters.
Weeks late, during a visit to a friend's house in April, "Better Late than Never" checked the ticket on her friend's computer and realized the size of her prize.
"When we were leaving, I asked her why she wasn't screaming," her husband recalled with a chuckle. His wife said she remembers answering: "Because I'm in shock."
The retiree waited until July 20 to claim her prize in part because winning big is a new experience. Though she has played Lottery games for decades, "Better Late than Never" hasn't won more than $5 before!
The prize will help the couple turn plans for a home renovation into reality. Our winner retired about five years ago after a 35-year career in administrative work. Her husband is a retired plumber. The *Powerball *prize will help the two afford the cost of putting a ground floor addition on their home.