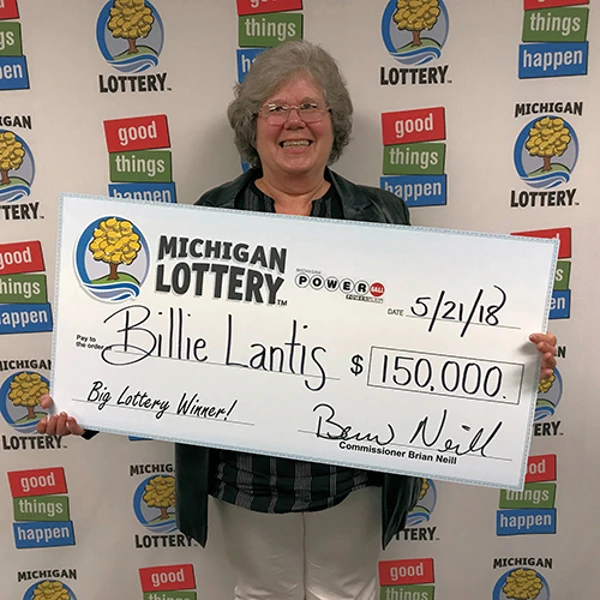 Michigan – Persistence paid off for a Lansing woman who won $150,000 playing Powerball.
Billie Lantis, 61, matched the four white balls and the Powerball – 03-06-09-17-56 PB: 25 – in Saturday's drawing. That usually is a $50,000 prize, but she selected the Powerplay option that multiplied the prize by three, yielding a $150,000 prize. She bought her winning ticket at East Paris Discount Liquor, located at 2871 East Paris Southeast in Kentwood.
"Every night there is a Powerball drawing I wake up at 11:05 p.m. to check my tickets," said Lantis. "I don't set an alarm, I just wake up like clockwork every time.
"When I woke up Saturday, I asked my husband to look over the ticket. When he told me we'd matched four numbers plus the Powerball, I was so excited. We spent the rest of the night planning how to spend the money."
Lantis has played Powerball for years. Each month she and her husband travel to East Paris Discount Liquor in Kentwood to buy a month's worth of tickets. Kentwood is about 50 miles west of Lansing.
"I heard about a big winner that was bought at the East Paris Discount Liquor store, so I told my husband we ought to start buying tickets there," said Lantis. "Each month we take a day trip over to grab dinner and buy our tickets. I don't think either of us expected to keep going there year after year but the owners are so nice and it really paid off for us."
Lantis visited Lottery headquarters on Monday to claim her prize. With her winnings, she plans to complete a home renovation project that she's started, take a vacation, and then save the remainder.
"It feels great to win! It takes away the stress of our home renovation project," Lantis said.