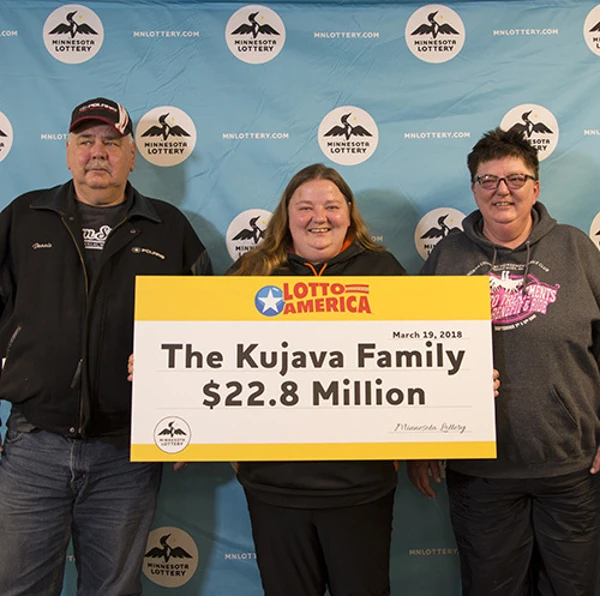 Minnesota – A brother and sister from Badger, Minn. have a long-standing agreement that if "one wins, we both win"—and a Lotto America jackpot worth $22.8 million was no exception.
Debbie Kujava purchased the $22.8 million winning ticket for the March 14 drawing at Holiday Stationstores, located at 503-3rd St. N.E., in Roseau on her way home from work on March 12.
The morning after the drawing, Debbie checked her ticket and noticed the numbers were a perfect match. She initially thought their ticket was worth $2 million so she went over to her brother Dennis's house and said, "We're millionaires!"
Dennis was a little skeptical of the news at first. "Well she does play tricks on me," he said. "But I normally wouldn't be at his house at 8 a.m." replied Debbie. It wasn't until Denise, Dennis's daughter, looked online that they discovered their ticket was actually worth $22.8 million.
The brother-sister duo and Dennis's two adult daughters, Denise Kujava and Deanna Kujava, are all sharing a portion of the $13.5 million cash option ($9.4 million after required tax withholding).
While the family has had fun dreaming about the possibilities about what their new-found wealth could bring, they remain undecided on their plans—except for one thing: Debbie was excited to retire from her job as an LPN!
The winning Lotto America numbers drawn on March 14, 2018 were 8-21-38-50-51 and the Star Ball was4.