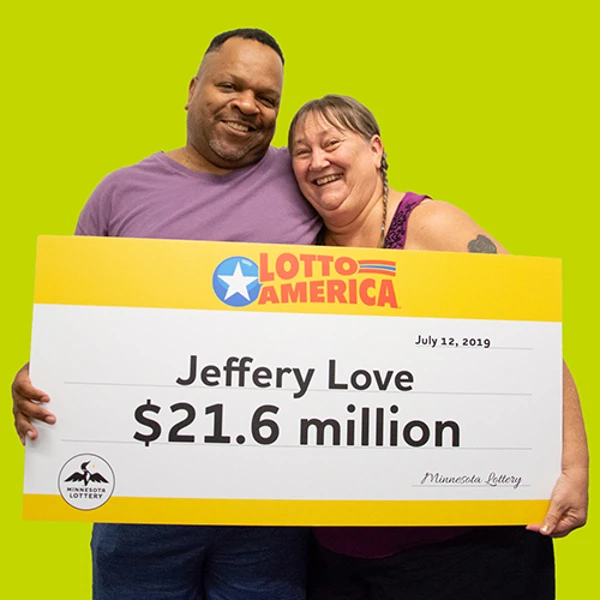 Minnesota – A Lotto America® ticket worth $21.6 million was in the glove box of an Elk River resident's car until this morning. Jeffery Love was on his way to work when he found out that he is a multimillionaire. He initially called into work and told them he would "be a little late." It wasn't long before he called back and let them know that he wouldn't be in at all today.
It has long been one of Love's dreams to visit the Minnesota Lottery office in Roseville and claim a big prize. "I drive by the lottery office every day on my way to work and always say, 'One day … one day.'"
Love said that he stopped at a lottery retailer this morning and scanned his ticket. The scanner message instructed him to contact the Minnesota Lottery to claim the prize. "I thought, 'Okay, this is big. Let me check the numbers on my phone.' When I compared the winning numbers to my ticket, they matched exactly. I called Vickie [his wife] and said, 'We have a situation.'"
"I didn't trust my eyes, I wanted to have Vickie look at it," said Love.
After seeing the ticket and confirming the winning numbers "eight or 10 times," Vickie Love told her employer that she needed the day off.
Love's ticket matched all five winning numbers, plus the Star Ball drawn on July 10 (16 – 22 – 32 – 36 – 42 Star Ball – 8) to win the jackpot.
Holiday Stationstore #395, located at 14075 Ramsey Blvd. in Ramsey, sold the winning ticket. Holiday Stationstores LLC will receive a $10,000 bonus.
This is not the first big win for this lucky store. In addition to this $21.6 million win, this store has sold a $1million winning Minnesota Millionaire Raffle ticket and two $50,000 winning scratch tickets.
The Lotto America jackpot has been won three times since the game began on Nov. 12, 2017. This is Minnesota's second Lotto America jackpot win. The Kujava family of Badger shared a $22.8 million jackpot won on March 14, 2018. The Kujava's winning ticket was purchased at Holiday Stationstore #193, located at 503 – 3rd St. N.W. in Roseau.
About the Lottery
Playing Our Part: Since 1990, the Lottery has generated more than $3 billion for programs that positively impact the lives of Minnesotans. More than $1.2 billion has helped preserve, restore and protect Minnesota's environment through the Environment and Natural Resources Trust Fund, Game and Fish Fund and the Natural Resources Fund. Another $1.8 billion has helped fund state programs, including education, public safety and health and human services.