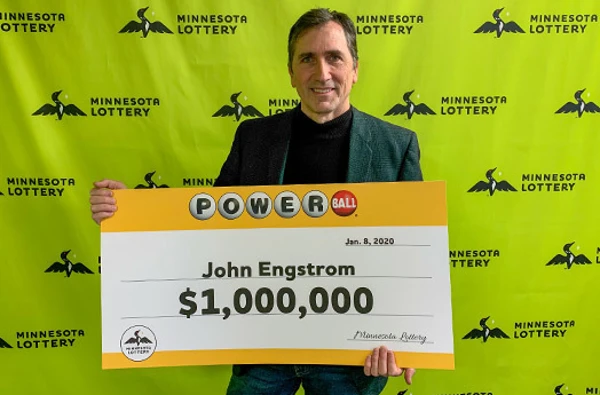 ROSEVILLE, Minn. – A college professor from southwest Minnesota who has been enriching the minds of students for 20 years struck it rich by winning $1 million playing Powerball.
​​John Engstrom of Mountain Lake said it was a "fluke" that he even purchased a Powerball ticket on Dec. 18, 2019. ​​
Engstrom and his wife were in Mankato doing some last-minute Christmas shopping when he stopped at Kwik Trip. He was standing in line waiting to buy some donuts when he noticed the Powerball jackpot sign and thought, "What the heck—I should buy a ticket." He put it in his coat pocket and said he "didn't think twice about it." ​​
It wasn't until Christmas Eve when Engstrom did some unexpected laundry thanks to his 11-month-old grandson that he discovered his $1 million winning Powerball ticket in his coat pocket. "I told my son, 'Your baby had a million-dollar mess!' If it wasn't for his messy diaper, I wouldn't have checked the ticket." Adding, "It was a miracle I didn't lose the ticket." ​​
Engstrom's single-line quick pick ticket matched the first five winning numbers drawn on Dec. 18, 2019 to win the $1 million prize. The winning Powerball numbers were 14-18-26-39-68 and the Powerball number was 9. ​​
Kwik Trip #344 is located at 2549 E. Madison Ave. in Mankato. The business earned a $5,000 bonus for selling the winning ticket. ​