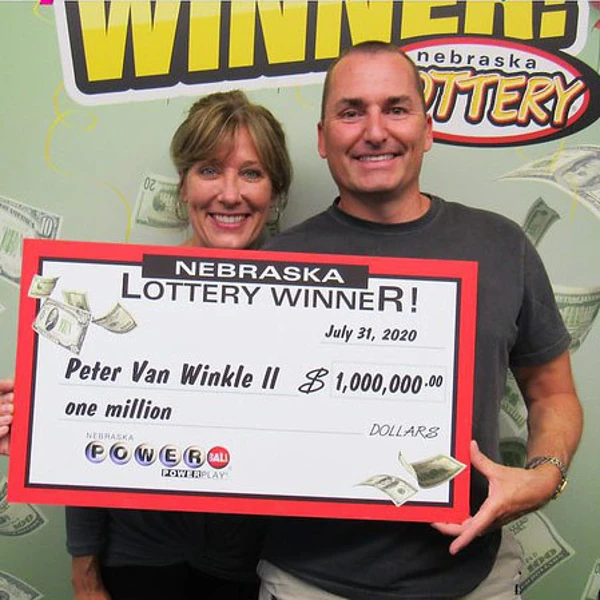 Nebraska – Peter and Tammy Van Winkle of Grand Island won $1 million playing Powerball from the Nebraska Lottery.
Van Winkle purchased his winning ticket at Fast Mart at 6835 North 27th Street in Lincoln. The ticket contained a single quick pick play that matched five out of five winning numbers (05, 21, 36, 61, 62) but not the winning Powerball number (18) from the July 25 drawing.
The Van Winkles were on their way back to Grand Island from a shopping trip in Omaha when they pulled off the highway to fill up with gas. Tammy went inside Fast Mart to buy a couple of Lotto tickets and a Scratch ticket for the ride home.
The tickets sat in a pile for a few days until Peter decided to check them. He checked a Lucky for Life ticket that won $3, then he checked his Powerball ticket. The Check-A-Ticket machine said "Winner, present original ticket to Nebraska Lottery". He didn't take it to the front counter, to see what he'd won. Instead he decided to take the ticket home.
"I got this weird feeling I should sign the back," he said. "My heart rate immediately increased."
He went home and checked the numbers on the Nebraska Lottery website with Tammy. Then they checked again. And again. They said they probably checked 20 times to make sure they were reading it correctly.
They put the ticket in a fire safe overnight before they could take it to the Nebraska Lottery's Lincoln offices on Friday morning.
The Van Winkles said they're probably going to use the money on trading in their car and paying off a loan. Tammy said they've got a kid who's about three years away from college, so the money will help with that as well.
Tammy runs A Higher Plane, a crystal store in Grand Island, and said that she'd been using the law of attraction to visualize her family winning at Powerball. Peter said he has another way of looking at it.
"I just buy them," he said. "It's cheaper than a beer."
Powerball is a multi-state jackpot game currently offered by 45 state lotteries, the District of Columbia, Puerto Rico and U.S. Virgin Islands. The odds of winning $1 million playing Powerball are 1 in 11,688,053.52 while the overall odds of winning any prize are 1 in 24.9.
The mission of the Nebraska Lottery is to generate proceeds for good causes while providing quality entertainment options to Nebraskans. Over $782 million has been raised for the Nebraska Lottery's beneficiary funds since the Lottery began in 1993. All 93 counties in Nebraska have benefited from projects funded with these Nebraska Lottery proceeds.