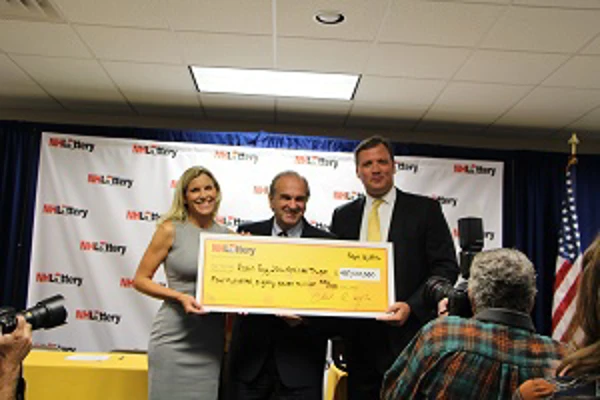 New Hampshire – The winner of a $487 million New Hampshire Powerball ticket claimed the prize and will donate an initial $100,000 to a series of New Hampshire nonprofit organizations—matching the $100,000 donation by Hannaford Supermarkets last month. The winner, who has chosen to remain anonymous, claimed the $487 million prize through the Robin Egg 2016 Nominee Trust facilitated by the law firm of Shaheen & Gordon, P.A. The prize money was distributed to the winner's account last week and William Shaheen of Shaheen & Gordon will serve as trustee. Shaheen made the donation announcement during a press conference today at New Hampshire Lottery Headquarters in Concord with nonprofit organizations in attendance.
While the family has opted to maintain its anonymity, they have indicated they are committed to supporting philanthropic causes in New Hampshire, and anticipate future contributions to New Hampshire nonprofits.
The winning Powerball ticket was sold at Hannaford Supermarket in Raymond for the July 30 drawing.
The winner had two options, taking a lump-sum cash option of approximately $341.7 million or the option of an annuity payment over 30 years. The winner opted for the one-time cash option, which netted the winner $256.3 million, after federal taxes were withheld.
"This winning ticket has received an extraordinary amount of interest. While we certainly wish we could have met our Powerball winners in person, we appreciate and respect that they have chosen to try to live as normal a life as possible," said Charlie McIntyre, executive director of the New Hampshire Lottery Commission. "This is a life-altering amount of money and we are extremely happy to learn about the winners' intention to make a major philanthropic impact with their winnings. This has been an incredibly exciting time for the New Hampshire Lottery and all of our players here in New Hampshire."