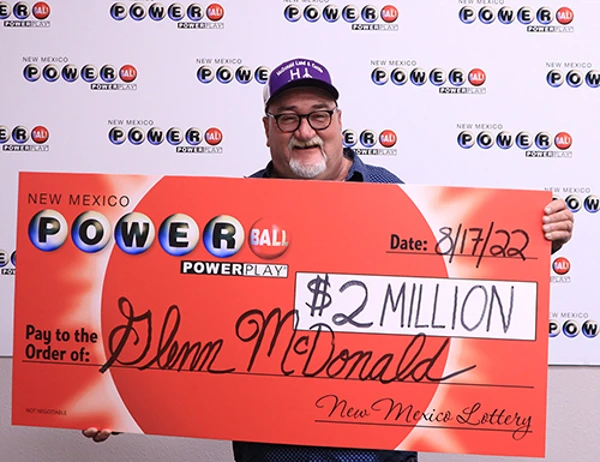 ALBUQUERQUE – Glenn McDonald from Loving, New Mexico claimed a $2 Million Powerball® prize at New Mexico Lottery Headquarters on August 17th.
Glenn purchased his winning Quick Pick Powerball ticket at Brewer Oil Loving Chevron at 100 N. 8th St. in Loving, New Mexico. He returned to the store last weekend to have his tickets checked, having no idea he won. The lady at the register scanned his ticket and told him he had to claim his prize at Lottery Headquarters. He asked, "What did I win?" And she said, "I don't know – all I can tell you is there is a $2 million prize that is still out there."
Mr. McDonald has been playing Powerball for about three years and always purchases Power Play. He matched all five White Ball numbers (8, 15, 46, 56 and 68) from the August 6, 2022 draw, but missed the Powerball number (3). Normally, this would result in a $1 Million winner. However, because he purchased Power Play for an extra dollar, he increased his prize to $2 Million.
When Glenn told his wife he won, she didn't believe him. She said, "Oh, you say that all the time." Glenn said she still doesn't believe it, but the giant oversized check he's taking home might help him help prove it.
Born in Malaga, and raised on a ranch, Mr. McDonald has lived and worked in New Mexico his whole life and has never been on vacation. Time off may be in his future. But first, he plans to help his community church.
$1 Million July 4th Powerball Ticket Still Unclaimed
Meanwhile, a winning $1 Million New Mexico Lottery Powerball ticket from July 4th remains unclaimed. The ticket was sold in Deming, New Mexico. The winning numbers for the July 4, 2022 draw were 15, 16, 24, 31, 56 and Powerball number 4. The $1 million winning ticket matched all five White Ball numbers but missed the Powerball number.
All drawing game prizes must be claimed within 90 days from the date of the drawing or the first business day after the 90th day if the Lottery is not open for business.