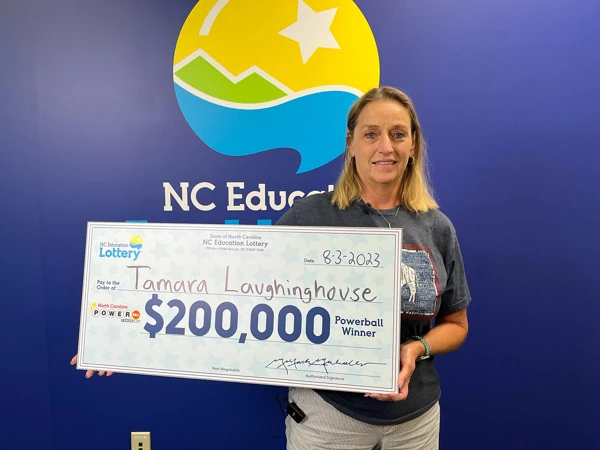 RALEIGH – While on a family trip in Wyoming, Tamara Laughinghouse of Mooresville found out that the special birthday numbers she uses to play Powerball won her a $200,000 prize.
"I was sitting in my parents' house having coffee with my dad when he started reading the winning numbers," Laughinghouse recalled. "I asked him to please reread the numbers."
She immediately recognized the numbers because she has used them for years.
"I've been playing those same numbers for over 20 years," Laughinghouse said. "They are the different birthdays in my family."
Laughinghouse bought her lucky $3 Power Play ticket from the Food Lion on Brawley School Road in Mooresville. She matched the numbers on four white balls and the red Powerball to win $50,000 in the July 17 drawing. Her prize quadrupled to $200,000 when the 4X multiplier hit.
"I didn't know how much I won so my husband got online and said, 'I think you won $200,000,'" she said. "We all got excited and gave each other hugs."
Laughinghouse said her great-great-grandfather is from Italy and she has always wanted to travel there.
"I always wanted to go see the area where he was from," she said. "My husband and I might go now."
She claimed her prize Thursday in Raleigh and, after required withholdings, took home $142,501.
In addition to an Italy trip, she plans to save some money and donate some to her old high school to help fund scholarships for students there.
Powerball is one of six lottery games in North Carolina where players have the option of buying tickets at a retail location or with Online Play through the lottery's website or the NC Lottery Official Mobile App.
Ticket sales from draw games like Powerball make it possible for the lottery to raise $2.5 million a day on average for education. For details on how $11.2 million raised by the lottery made a difference in Iredell County last year, visit www.nclottery.com and click on the "Impact" section.