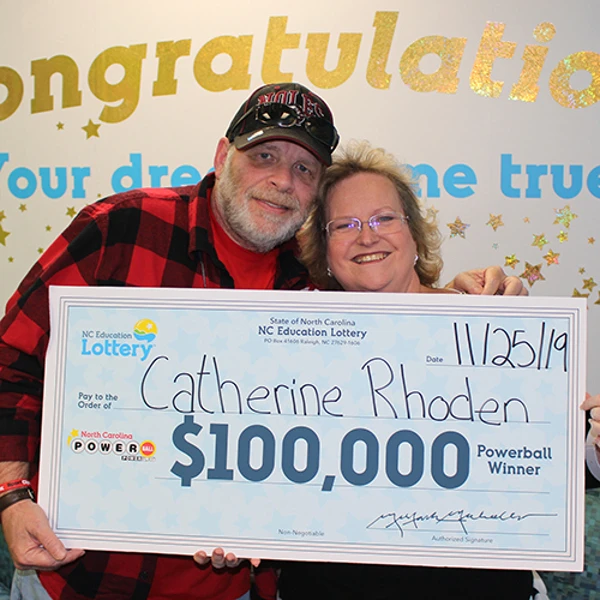 North Carolina – For Catherine Rhoden of Creedmoor, a trip to the grocery store with her boyfriend to get barbecue fixings turned into a $100,000 Powerball win.
"We've only been dating for three months," Rhoden said. "I always joke that he won the lottery when he met me, but now we actually did. I never played the lottery before I met him. He's definitely my good luck charm."
The office manager's good luck started Wednesday night when she stopped at the Harris Teeter on St. Albans Drive in Raleigh to get groceries. While there, she and her boyfriend bought a $3 Power Play ticket for that night's drawing.
"We didn't realize how much we won at first," Rhoden said. "I thought maybe we'd won $1,000. We didn't find out it was $100,000 until we came to Raleigh. This is incredible. "
Rhoden claimed the prize Monday at lottery headquarters. After required state and federal tax withholdings, she took home $70,751.Rhoden said she plans to use some of the money to fix her broken well and then she wants to make a donation to Toys for Tots and St. Jude Children's Research Hospital.
"We've been blessed, very blessed," Rhoden said. "We want to be able to pay it forward."
Rhoden's ticket matched numbers on four of the white balls and the Powerball to win $50,000. The prize doubled when the 2X multiplier was drawn. The ticket beat odds of one in 913,129. The jackpot for Wednesday's Powerball drawing is $100 million or $68.9 million cash.
Ticket sales from draw games like Powerball make it possible for the lottery to raise more than $700 million a year for education. For details on how lottery funds made a difference in all of North Carolina's 100 counties last year, click on the "Impact" section of the lottery's website.