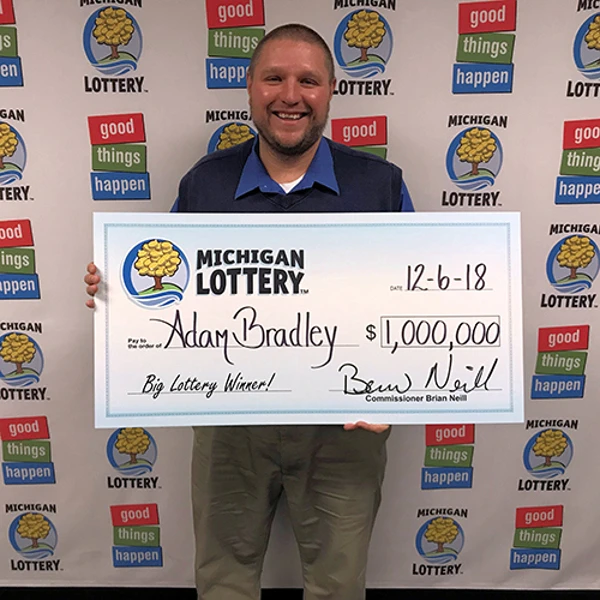 Michigan – An Ohio man's visit to Michigan turned out to be very profitable when he won $1 million playing Powerball.
Adam Bradley, of Westerville, Ohio, matched the five white balls drawn – 20-22-28-45-50 – in the April 28 drawing to win a $1 million prize. He bought the winning ticket at the Speedway gas station, located at 3357 East Holland Road in Saginaw. Westerville is about 15 miles north of Columbus.
"My mom, grandma, and I were going to dinner, and I told them I wanted to stop and buy tickets since I was in town," said Bradley, a Michigan native. "My mom gave me $4 and I bought two separate tickets. When I got back to the car, I gave her one and kept one.
"My grandma was skeptical. She said: 'I don't know why you play, no one ever wins!'"
The next morning, a family member read the winning numbers to Bradley.
"As I was listening to the numbers, I couldn't believe my ears," said Bradley. "I couldn't stop shaking when I realized I'd won $1 million!
"I told my grandma: 'It turns out you were one million times wrong!'"
After taking some time to plan what to do with the $1 million, the 35-year-old player visited Lottery headquarters on Thursday to claim the big prize. With his winnings, Bradley plans to buy a new home, take a family vacation, and then save the remainder.
"Winning is nice, it gives me a sense of financial security," Bradley said.