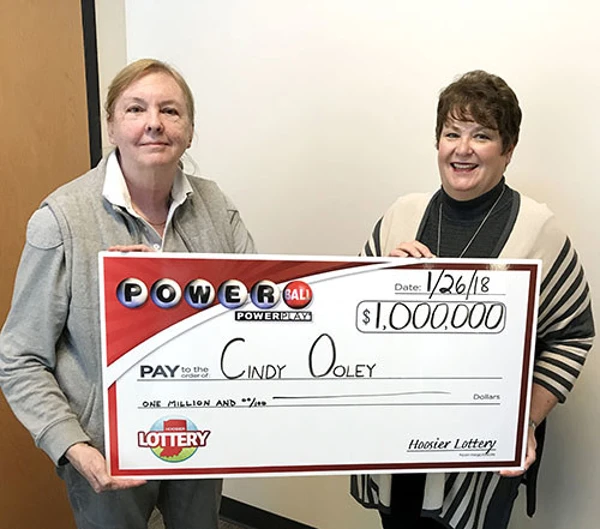 Indiana – Cindy Ooley and her husband, Steve, took a trip to Hoosier Lottery headquarters for what they thought was a $1,000 winning ticket. Instead, they went home with a $1 million Powerball prize.
Hoosier Lottery officials began interviewing Cindy about her win, which is standard procedure for a prize of that amount. Then Steve looked down at the table, where there was a ceremonial big check. Cindy was mid-conversation when Steve realized what the check said. He interrupted.
"That's not $1,000," Steve said.
The check in front of Steve and Cindy had six zeroes, not three. Hoosier Lottery officials explained to Cindy and Steve that they won $1 million.
"This is nuts. This is crazy," Steve said.
A look of shock entered the couple's eyes, then realization. Cindy and Steve immediately called the bank. This wasn't the small transaction the couple originally expected.
"We're not going to have to watch things quite as closely," Cindy said.
Before the excitement of a $1 million prize, Cindy was at home clearing out a desk drawer when she found old Powerball tickets. She checked to see if she had any winners. When she reviewed the Powerball ticket from the Sept. 23, 2017 drawing, she told Steve she had a $1,000 winner and they should drive to Indianapolis to claim it. Neither realized the true prize amount until they saw the ceremonial check.
Cindy purchased the winning ticket at Meijer, 1425 W. Carmel Drive in Carmel, where she typically buys her Powerball tickets. Her ticket matched all five numbers except the Powerball number.
Cindy has been playing Powerball twice a week for years. The Fishers couple says they enjoy dreaming about what they could do if they won a big jackpot.
With little time to react to the news, Cindy and Steve were unsure what their plans would be for the $1 million prize.