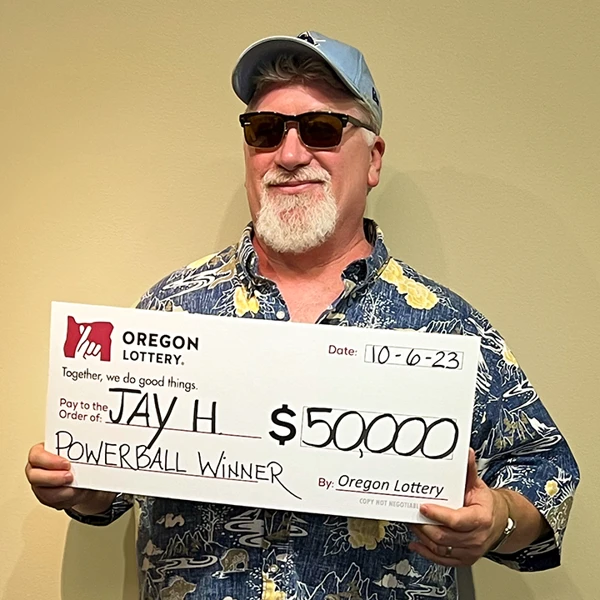 Salem, Ore. – Five winning $50,000 Powerball tickets were sold in Oregon in recent weeks.
Jay Haggard, 62 of Tillamook, won his $50,000 prize in the September 30, 2023 drawing and claimed it on Friday. After hearing there was a winning ticket purchased in Tillamook on the radio, Haggard broke the news to his son, "Hey, you know how someone hit the $50,000 Powerball in Tillamook? Well, I'm that guy!" He plans to use the money to take his family to a few Seattle Mariners games and pay bills.
One of the $50,000 winning tickets in Saturday's drawing was purchased in Hillsboro, with the other sold in Beaverton. Oregon has produced a total of $5.6 million in winning Powerball prizes. This is the first time two consecutive jackpot runs have produced billion dollar jackpots in the Powerball game.
Also in this latest run, the Oregon Lottery has sold more than $27 million in tickets. Approximately a third of sales from the game will be returned to state beneficiaries to support economic development, education, veteran services, state parks and more.
Retailers who sell lottery tickets also earn commissions from the boost in ticket sales and bonus payments for lower tier wins. For instance, an Oregon retailer who sells a $1 million ticket would earn a $10,000 bonus.
Powerball is a multi-state jackpot operated by 44 states, plus the District of Columbia, the U.S. Virgin Islands and Puerto Rico. The largest prize won in Oregon was a $340 million jackpot in 2005.
The Oregon Lottery recommends that you always sign the back of your ticket to ensure you can claim your prize. In the event of winning a jackpot, players should consult with a trusted financial planner or similar professional to develop a plan for their winnings. Players have a year to claim their prize.