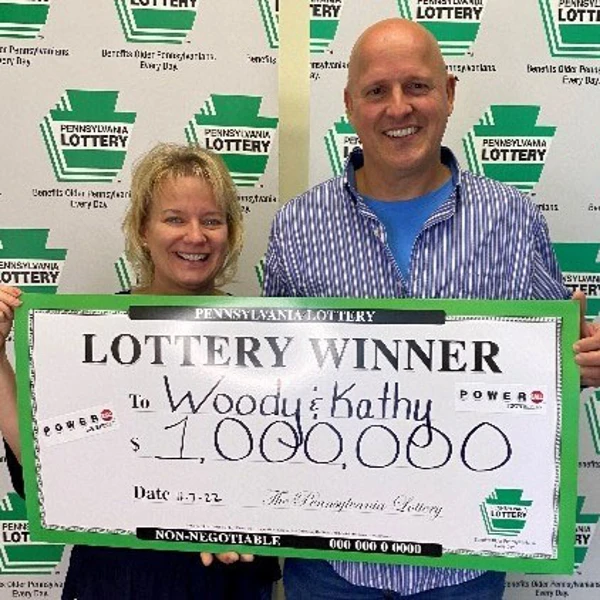 Pennsylvania – Officials from the Pennsylvania Lottery and Turkey Hill, a Lottery retailer, today presented a commemorative check to the winners of a recent $1 million Powerball® ticket, which was sold during the historic November 7th drawing. The check presentation was held at Turkey Hill, 7601 Allentown Boulevard, Harrisburg, Dauphin County, where the $1 million winning ticket was sold. The store receives a $5,000 bonus for selling the winning ticket.
Woody and Kathy Raptosh, the winners of the $1 million ticket, were looking to join in on the fun last week as the Powerball® jackpot reached an all-time world record of $2.04 billion. Although a single jackpot-winning ticket was sold in California, the drawing also produced an unforgettable moment for the Raptosh family. Woody and Kathy, who live in Dauphin County, say they can't believe this happened to them.
"I saw the Turkey Hill and stopped by. I said to the clerk, 'Give me $20 quick pick for Powerball, got my tickets and went home," said Woody. "I said to my wife, 'That's the West Hanover Township Turkey Hill that sold the $1 million winning ticket and that's where I bought my ticket.'"
Woody said he showed his ticket to his daughter, as they both checked to see if it was a winner.
"She started screaming and saying, 'No way, no way!' It took me longer to read the numbers until I realized we had the winning ticket," said Woody.
"I was in the bedroom and heard my daughter scream. I thought, 'What is happening?'" said Kathy, Woody's wife. "He said, 'Kathy check this out!'"
"My heart was racing!" said Woody, who plans to visit a financial advisor. Woody said that after 35 years of working for the Commonwealth as a civil engineer, he's ready to retire and this will help.
"We can also do some home improvements and help the kids," added Woody.
In addition to the Raptosh family, the historic jackpot was also a big winner for older residents in Pennsylvania. It is estimated that the jackpot run generated nearly $70 million in profit that will go to programs that benefit older Pennsylvanians. The November 7th drawing also produced five other winning tickets that were worth $100,000 each.
"Congratulations to Woody and his wife Kathy for winning $1 million from Powerball and for being part of history," said Pennsylvania Lottery Executive Director Drew Svitko. "As the Pennsylvania Lottery continues to celebrate 50 years, we're recognizing players like Woody and Kathy who are helping us generate funds for programs that benefit older Pennsylvanians."