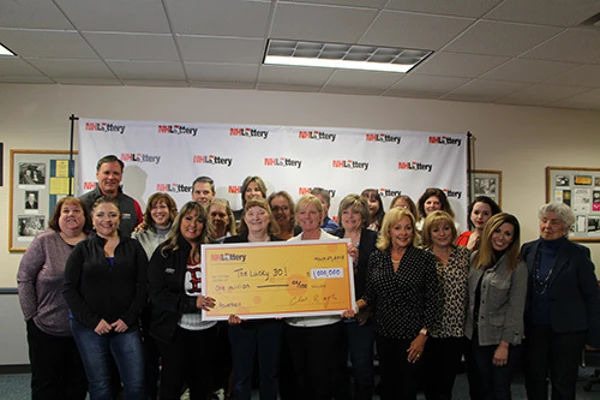 New Hampshire – A 30-person winner pool comprised of employees at Jordan's Furniture in Nashua claimed a $1 million Powerball prize today at New Hampshire Lottery headquarters. The New Hampshire Lottery made a formal check presentation to the group today, with about 20 members of the winner pool present. The group purchased the winning $1 million ticket at Cumberland Farms on Daniel Webster Highway in Nashua for the drawing on Saturday, March 23.
"What a tremendous moment to be able to award this big group of lucky winners this $1 million prize. On behalf of the New Hampshire Lottery, I'd like to say congratulations to our winners," said Charlie McIntyre, executive director, New Hampshire Lottery. "The New Hampshire Lottery encourages players to take part in pools, as it makes the experience more fun when you can share the excitement and anticipation with friends, family or co-workers. You still have time to get in on the action as tonight's Powerball jackpot is expected to reach $750 million."
Powerball drawing results from Saturday, March 23, were: 24-25-52-60-66 PB-5 with a Power Play of 3.
"We are all really excited to win this $1 million Powerball prize together," said Litchfield resident Julia Crema, one of the members of the winning pool. "We have been playing Powerball together off and on for years and we always dreamed we'd land a big winner. Today is our lucky day!"
The $1 million Powerball winners include:
Julie Crema, Litchfield, NH
Carrie Perry, Lowell, MA
Steve Lavoie, Hudson, NH
Theresa Bisson, Nashua, NH
Ruth Masterson, Tyngsboro, MA
Sandra Purington, Londonderry, NH
Stephanie Chakalos, Dublin, NH
Wendy Hulslander, Keene, NH
Karen Creeden, Nashua, NH
Brianna Gould, Manchester, NH
Rob Walsh, Derry, NH
Dallas Coughlin, Nashua, NH
Ed Almonte, Nashua, NH
Lori Bondaruk, Hudson, NH
Rob Spillane, Londonderry, NH
Jason Engel, Manchester, NH
Maureen Keefe, Londonderry, NH
Beverly Ouellette, Nashua, NH
Sue Vincent, Nashua, NH
Lou Ann Duke, Nashua, NH
Annie Mackie, Merrimack, NH
Paul Laforge, Nashua, NH
Sue Proscia, Chelmsford, MA
Bobbie Ayotte, Brookline, NH
Sandrea Lutkevich, Dunstable, MA
Michael Durant, Manchester, NH
Beth Kelley, Groton, MA
Rory Scott, Manchester, NH
Sheri Mateo, Tyngsboro, MA
Kathy Ogiba, Hudson, NH