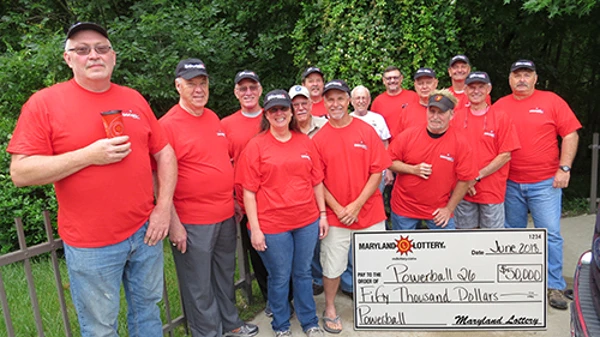 Maryland – A group of friends that gathers often over coffee and Maryland Lottery tickets is still celebrating the $50,000 third-tier Powerballprize they won last month. Many members of the Maryland "Powerball 26" have played *Powerball *and Mega Millionstogether for 10 years.
The Harford County group "CEO," Earl Marsh Jr., said he usually purchases their Powerball quick-pick tickets from a Lottery retailer other than their new lucky store, Royal Farms #70 in Joppa, Md.
"I was thinking about the fact that the Royal Farms store had sold two Cash4Life winning ticketsa while back," the retiree told Lottery officials. "I decided to get our tickets from there that day, and I'm glad I did."
When Earl checked the tickets from the May 2 drawing at a Lottery retailer, he "saw a lot of zeros!" He also decided to check the ticket using the Lottery appon his phone.
"That's when I realized we missed the big one by one number," he said, while claiming the prize at Lottery headquarters with two members of the group, Gary Sullivan and Joe Moore Jr.
"When he told me we won, I had to see for myself," said Joe. "I scanned the ticket on my phone and then rebooted my phone before checking again. I just couldn't believe it."
Two members of the group of 24 had entered twice, making the prize a 26-way split. After taxes, each check is worth $1,293. One lucky player had just joined the group prior to the big win.
Want to visit the site of this lucky sale? Royal Farms #70 is located at 500 Joppa Farm Road in Harford County.