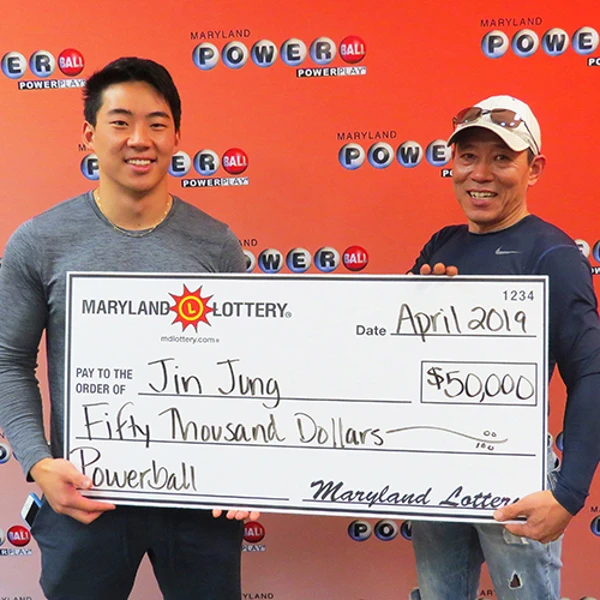 Maryland – When multistate Lottery jackpot games begin rolling to ever-higher amounts, more and more people begin to play in hopes of becoming multimillionaires. Jin Jung of Olney joined in the chase that ended March 27 with the $768.4 million Powerballjackpot going to a Wisconsin player and a $50,000 prize going to him!
The hard-working dad, who was ecstatic when he discovered his Lottery luck, is still smiling. The 50-year-old claimed the prize with Brian, his 22-year-old son, by his side. The excited winner carried the lucky ticket in his wallet for nearly two weeks before realizing he had won.
"I actually went to purchase a Mega Millionstoday and decided to check my Powerball ticket while I was there," said Jin, smiling. "When I scanned the ticket, it said I won $50,000!"
The Montgomery County resident happened to again visit 7-Eleven #11575 located at 18120 Georgia Avenue in Olney, where he had purchased the ticket. Jin asked the store clerk what he should do next. The store employee instructed him to come to Lottery headquarters in Baltimore to claim his prize.
The happy winner did just that, but first stopped at home to share the news with his son. He didn't tell his wife until the two men were riding to Baltimore. He planned to tell his daughter, who is away at college, after the claiming process.
"He works so hard for his family and has sacrificed so much for us," said Brian. "He lost his job when we were growing up and took out loans to take care of us."
The big winner now works as a flooring installer. He plans to use the prize to pay off his debts.