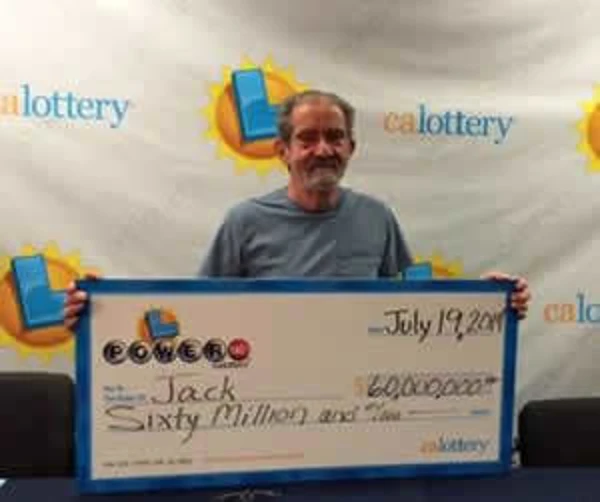 California – What do popsicles and Powerball have in common? Not much, besides the same number of letters. But for John "Jack" Long, the two will forever be intertwined. You see, Long was picking up his favorite sweet treat in Fontana, when he decided to test his luck and won $60 million.
"I hadn't bought (lottery tickets) in a while, and I was at the store buying my popsicles and I go, 'Oh hell, let me get some of these before I get out of here,'" Long explained. "I didn't ask or care how much it (the jackpot) was, just bought them on a whim."
The retiree ended up buying three Quick Pick® tickets – one Powerball, one Mega Millions® and one SuperLotto Plus®. Long went home and didn't think much more of it until the night of the draw. That's when a neighbor stopped by and told Long the winning ticket was sold at Cardenas Market – the store with Long's favorite popsicles. The neighbor also said workers told him the winner was "a regular customer with a power wheelchair". Long was a regular at the store and he did use a power wheelchair.
"I didn't think anything about it because you never think 'it's me,'" Long said. So he went about his business and figured he'd check his ticket the next time he was at the store. "I got to go sooner or later, that's where I get my sugar-free popsicles."
A few days later, another neighbor asked Long about the ticket and mentioned the description of the winner. At that point, Long decided to check his ticket. He went online and found the winning Powerball numbers from the July 19th draw – 10, 53, 17, 25, 45 and the Powerball 9.
"I kept looking at my ticket over and over again," Long said of his initial reaction to the win. Once it started to sink in, he headed straight for the Lottery's District Office in San Bernardino to claim his $60 million prize. He decided to take the cash option which is an estimated lump sum amount of $35.9 million before federal taxes.
So what's the first thing he plans to do with his newfound wealth? Help others. First and foremost, would be his family – Long wants to buy cars for his two daughters that live nearby. "I want to give them something that's good and suitable, an SUV or a van, no fancy Lexus and stuff, something economical." But that's not all. Long would also like to help out others in need and possibly a local organization he cares about.
When it comes to Long himself, he said he doesn't need a new car because he likes the one he has. He also doesn't need a new house because he likes where he lives. In fact, he said not much is really going to change with him, "I'm just a simple, old man." A simple, old man with a lot more money to buy popsicles.
Long's winning ticket was purchased at Cardenas Market #21, which is located at 8963 Sierra Ave. in Fontana (San Bernardino County). The store owner will receive a retailer bonus of $300,000, or one half of one percent, for selling the winning ticket.