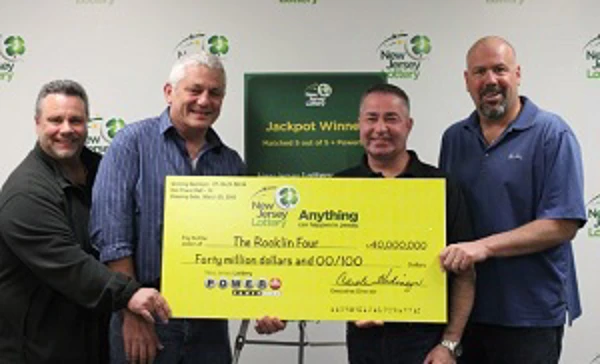 New Jersey – A 10-year tradition of family Friday-night pizza continues long after the children have grown up and gone on with their own lives. The parents remain loyal to the tradition and to the friendship that the four couples have cultivated through the years. The group still meets and pools their money to buy weekly Powerball and Mega Millions tickets just as they've regularly done. Now, those relationships have been bonded even stronger by good fortune and a $40,000,000 Powerball jackpot win.
Carole Hedinger, New Jersey Lottery Executive Director, had the opportunity to meet the winners and discuss their lives - past, present and future. She said, "The best part of my job is meeting the winners and learning about them and their families. What strikes me is just how typical the winners are. Most are just hard-working, average people who want to enjoy life with their family and friends. Winning the lottery just makes the simple pleasures in life that much easier to enjoy."
The Rocklin Four members, named for the retailer at which the winning ticket was purchased, are:
Daniel Blackley Jr., Dumont, Bergen County,
Scott Goldberg, Dumont, Bergen County;
Robert Kerr, Dumont, Bergen County;
Thomas Reagan, Dumont, Bergen County.
When asked how this win will change their lives, they all agreed that most things will not change including their Friday night pizza gathering. None of them have plans to leave the neighborhood or do anything else much differently. The Rocklin Four collectively stated, "It's a great chance to have more fun and take care of our families."
The lucky Lottery retailer is Rocklins Stationers, 458 Cedar Lane, Teaneck in Bergen County. For selling this winning ticket, the retailer will receive a bonus commission of $30,000. It was the sole winning ticket sold for the $40 million jackpot. The cash value of the ticket is $26.8 million. Federal tax of 25 percent and state tax of 3 percent are withheld. The net prize amount after taxes is $19,328,858. The four group members shared the prize equally.