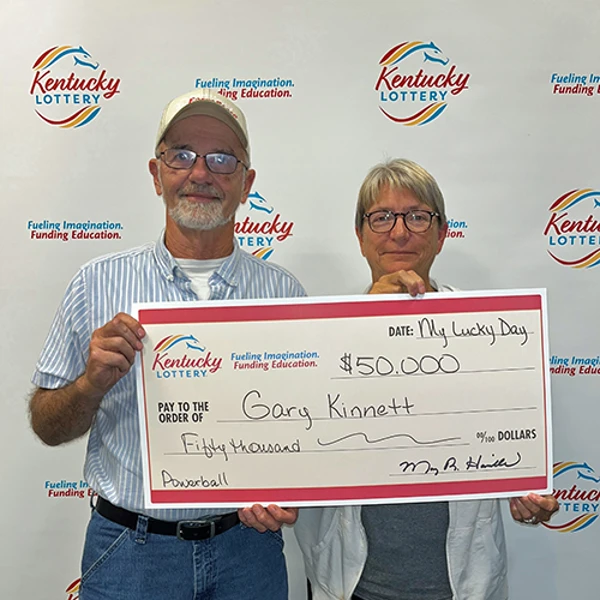 Kentucky – Gary Kinnett of Russell Springs, KY is seeing clearly after claiming a $50,000 Powerball ticket from the game's October 1st drawing.
The winning ticket he purchased at Express Mart on Steve Wariner Drive in Russell Springs matched four of the white ball numbers and the Powerball to win the game's third prize (Line B on his attached ticket).
"I couldn't decide if I wanted to spend $20 or $40 on this drawing and I decided to spend $40.  I always keep my tickets in the order I purchased them, so when I checked them it was one of the last tickets I purchased.  I'm glad I spent that extra $20!"
"I told my wife to call me ASAP, it was 4:30 in the morning."  His wife, Debbie, laughed, "I was at our daughter's.  I didn't know what was wrong." He told her that they have to go to Louisville.  That's something he said he would tell her if he ever won big.
"I checked the numbers on the website, and I had my wife check them too.  She normally rolls her eyes when I buy tickets." "Not anymore.  I'm not going to doubt you anymore," his wife said.
The Russell County couple traveled to lottery headquarters on the Tuesday following the drawing, where he received a check for $35,500, after taxes.
When asked what they plan to do with the winnings, Gary said, "We are going to pay off our small bills and take a nice vacation.  Money like this doesn't fall out of trees, we still work, and we help our kids and grandkids."  They have two immediate purchases planned.  "When we leave here, I'm going to get some new eyeglasses and we are getting a grain bin gazebo," Gary said.  He added, "It's going to be so nice to sit around a firepit and enjoy time with family and friends."