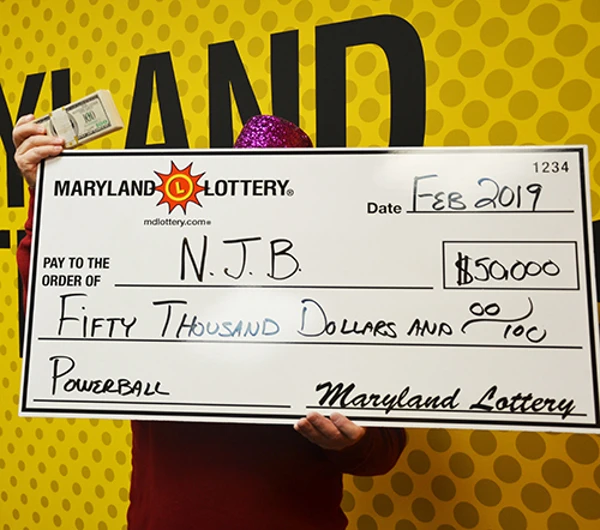 Maryland – A self-proclaimed lucky Marylander from Ellicott City has played the same set of Powerballnumbers for years and won small prizes with the combination. For the Feb. 9 drawing, however, he hit for a much larger sum: $50,004.
The winner, who is going by the name "N.J.B.," plays a number combination associated with an identification number: 1, 2, 3, 5, 7 and 25 as the Power Ball. He was out the evening of Feb. 9 with his longtime girlfriend and decided to check the drawing shortly before midnight. The Howard County resident missed winning the Powerball jackpot by only one number! His combination was missing only the 5; the drawn numbers were 1, 2, 3, 7, 35 and 25 as the Power Ball.
"I said, 'I think I may have just won a lot of money,' " the happy player recalled telling his girlfriend while claiming his prize at Maryland Lottery headquarters in Baltimore. The couple scanned the ticket and a message flashed up that he had indeed won $50,000 on one line of his lucky ticket. He also won an extra $4 on a second line for matching the Power Ball.
Semi-retired and comfortable in his lifestyle, "N.J.B." has no specific plans for the unexpected windfall. While a celebratory Valentine's Day dinner is in the works, he said his prize is going straight to the bank. He also might buy a new car later this year. "I'm really happy that I won," he said.
This isn't the first time he has lucked into a large amount of money. A few years back, "N.J.B." put $40 in a slot machine with plans to play until he won. He hit for a five-digit payout! Wins like these, along with his propensity for picking up smaller prizes, make him feel lucky.
"N.J.B." was the only Powerball winner in the Feb. 9 drawing at the $50,000 level in Maryland and one of 52 winners at that level across the country. He bought his lucky ticket at Weis Markets #062 at 10825 Birmingham Way in Woodstock.