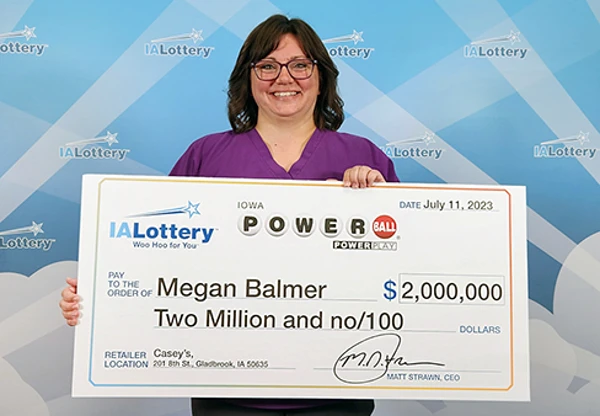 CLIVE, Iowa — Iowa's newest $2 million Powerball® winner says she's looking forward to paying off her house and student loans and planning for retirement. But first, she hopes her sons will be winners with their entries at the local fair.
"They're taking the livestock to the county fair," Megan Balmer of Garwin said as she claimed her prize Tuesday at Iowa Lottery headquarters in Clive. "They're taking his heifer, my oldest has a heifer, and my youngest is showing a chicken. It's his first year at it."
Balmer, 36, a nurse who works for a home healthcare company, said that she and her boyfriend, Mike Ellis, bought the $2 million-winning ticket Monday night, just before the sales cut-off time for that night's Powerball drawing. About an hour later, they were at home and she decided to check the results of the easy-pick ticket.
"I had a ticket with multiple plays on it and I saw the numbers, and I double-checked on the website a couple times," she said. "And then I checked on the app and didn't quite believe what I was seeing. Then we called my stepmom and we went and checked it at another Casey's gas station and verified that it was a winner."
Balmer said it was a race against the clock because they knew the Casey's store in the nearby community of Toledo would close soon.
"We were hurrying to get there and wanted to check it," she said. "Because I knew I wouldn't sleep if I couldn't know, not that I slept much anyway."
Ellis said they all went inside and it was quite a scene once they realized the good news.
"I was jumping up and down, teary-eyed," he said. "I was just super excited."
Balmer said they were shaken up, in a good way.
"You were in tears, my stepmom was hugging you, I'm tearing up, I don't even know if I was really listening to what the clerk was saying!" she recalled on Tuesday with Ellis. "Just the shock and disbelief, I guess. We couldn't believe that something like that would happen to us. It's not something that happens -- ever -- to us. We don't ever have luck like that."
Balmer said that she and Ellis were so keyed up, they only got a few hours of sleep Monday night, so they decided to claim the prize on Tuesday while her parents helped her sons get their entries to the Tama County Fair.
Balmer's ticket matched the first five numbers but missed the Powerball to initially win a $1 million prize in the game's Monday drawing. But because she added the Power Play® option to her ticket, her prize at the Match 5 level was multiplied to $2 million. Balmer's ticket was the only one in the country to win a $2 million prize that night.
Monday's winning Powerball numbers were: 2-24-34-53-58 and Powerball 13. The Power Play number was 2.
Balmer's winning ticket was purchased at Casey's, 201 Eighth St. in Gladbrook.
Another Iowa ticket also was one number away from Monday's jackpot, matching four of the first five numbers and the Powerball to initially win a $50,000 prize. But like Balmer, the player who made that purchase added the Power Play option to the ticket, which multiplied their prize to $100,000.
That winning ticket was purchased at Casey's, 406 Iowa Highway 3 in Marcus in northwest Iowa.
Casey's will receive a total bonus of $2,100 from the Iowa Lottery for selling the two big winning tickets in Monday's Powerball drawing.
The Iowa Powerball prizes come at a time of big jackpot news. The Powerball jackpot has climbed to an estimated $750 million annuity, $378.8 million lump-sum option, for the game's next drawing on Wednesday. That's the seventh-largest jackpot in the history of the game.
The Mega Millions® jackpot also has climbed into the stratosphere. The jackpot for that game's Tuesday drawing is an estimated $500 million annuity, $251 million lump-sum option.
This is the third time that the games' jackpots have simultaneously grown to at least $500 million.
Balmer is looking to the future with her winnings.
"That's a big goal of mine: to pay off the mortgage, my student loans from nursing school and credit card debt that I'd like to clear up," she said. "That's huge. That's such a relief to be able to say that I did those things.
"And I'll save some for retirement and my kids for their college," she said. "That's right around the corner, I'll blink and it will be there."
Powerball and Mega Millions are both lotto games with jackpot prizes that have topped $1 billion. But while Powerball's drawings are on Mondays, Wednesdays and Saturdays, Mega Millions drawings are on Tuesdays and Fridays.
About the Iowa Lottery: Since the lottery's start in 1985, its players have won more than $5.4 billion in prizes while the lottery has raised more than $2.3 billion for state programs. Today, lottery proceeds help our state in multiple ways. They help Iowa veterans and their families through the Iowa Veterans Trust Fund. They help with ongoing insurance costs for the families of Iowa peace officers, firefighters and corrections employees who die in the line of duty. And they provide help for a variety of significant projects through the state General Fund.